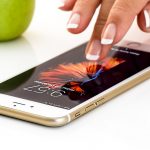 It definitely would not be wrong to say that since their launch, Apple iPhones have cornered and dominated the cellphone market. The ease of use, along with their stylish, top-of-the-class apps and looks not only make them the most desirable thing to own but also the "done thing" in the millennium, as the millennials would say. However, just the cellphones are no more in style with this century's consumers. Along with their sleek and beautiful phones, now, there is an option to customize your personal iPhone using different, and certainly unique, accessories. Things like Bluetooth keyboards, phone cases, phone stands, ear pods, charger-cable covers, and many more such accessories are now taking the world by storm! Read on to find what we think are the must have Apple iPhone accessories that are most definitely suitable for you!
Phone Cases: Phone cases are a must have. Not only do they protect your phones and screens, but they also are a great way to let others take a peek at your whimsical self. Why waste time and money on simple golden, black, or clear phone cases, when you have a wide variety of cases depicting everything from kitty cats to your favorite pop culture references at your disposal? In fact, glow in the dark cases with the face of the Joker from the Batman franchise is a certified new favorite for comic and graphic novel aficionados! Get in and choose a case to showcase your fancy in the easiest of ways with these cool phone cases!

Bluetooth Keyboard: Always on the move and working your emails through the cellphone? Well, this one is one of the most useful Apple iPhone accessories for you then. With their sleek design, easy connectivity to iPhones, and a standard QWERTY keyboard, these Bluetooth keyboards are for those workaholics who are always linked to their workplaces through their cellphones. These are easier to type into than the actual screen keypad, and they come in several customizable styles, to slide right into your style of life and work.

Ear phones: Ear phones are one more thing in the Apple iPhone accessories list that have become almost indispensable nowadays. There are now several different kinds of ear phones or pods that have been released, for each and every situation the consumer is in. Working out? Go for the wireless, bluetooth Apple ear pods that'll keep you connected to your music and you don't even have to worry about the wires. A true Music aficionado? Go for the wide variety of apple ear phones with a selection of various bass settings to suit your mood and liking!

Go on then! Buy an accessory and showcase you Whimsy!