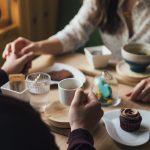 A lot of people dismiss speed dating as a waste of time as they feel that it is not conducive to the formation of deep connections. They fail to see that this is only the beginning of these connections which can be strengthened later on. There is nothing bad with the concept per se. As long as you know how to handle yourself in these situations, you should do fine and learn much from the experience. Below are some of the things to remember before speed dating:
Manage Your Expectations
Read up on the specific rules of the speed dating event that you are going to. This will prevent surprises and frustrations. You can just relax and let things flow since the process will go exactly as you know it will. Manage your expectations as to what might happen. Perhaps you will meet someone interesting that will like you back in return. Maybe you won't be so lucky. We meet thousands of people in school and in work but form strong bonds with only a few of them. Expect the same thing for dating.
Embrace Rejections
Rejections only hurt because we have a negative perception about it. We think that rejections are failures. We let our self-esteem plummet because of the lack of external validation. It might be more useful to view rejections as positive events. We can cross out one prospect off our list and shift our focus on potential dates who we actually connect with. We don't need everyone to like us anyway. It's great to eliminate distractions. It's good that they were straightforward that it wouldn't work out, whatever their reasons may be. Don't take it personally.
Have Clear Priorities
Don't come to these events without knowing your own priorities. What are the traits that you are looking for? Are you there to find the prettiest faces? Are you looking for confidence, intelligence, fashion sense, or humour? Are you more interested in personality, career, or values? You have very little time to uncover if your dates have the qualities that you are looking for. Have clear priorities and ask revealing questions right away.
Be Honest and Open
There is no need to please anyone while hiding your true self. That will get tiring over time. Be polite but firm. Be honest about who you are and what you're all about. Open up and show who you are so that a kindred spirit can find you.