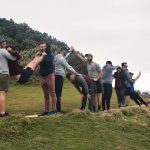 Dear Younger Self,
As I sit here, typing this letter to you, something comes to mind that I feel compelled to share with you. And that is this: start investing in team building experience early on in your career.
As you know, teamwork is instrumental in any profession. It is about working together and collaborating with others, irrespective of the sector you work in. Whether you are a teacher, nurse, scientist, or athlete, you must rely on others to help you achieve success.
Team building experience is all about developing those skills. It is about creating a supportive and respectful environment where everyone can contribute and grow. Team building experiences provide opportunities for employees to bond and trust one another, which ultimately leads to more productive and innovative work.
But it's not just about productivity, it's also about enjoying your work. When colleagues are supportive of one another, and you're surrounded by a positive and fun environment, you're more likely to feel happy and satisfied in your job.
In my own experience, a team building activity had a big impact on my professional life. I remember when our department heads decided to take us out for an outdoor adventure. During the course of the day, we participated in several team-building activities, such as completing a ropes course, navigating an obstacle course, and rafting down a river.
Initially, I was skeptical. I thought it would be a day wasted, but it turned out to be the opposite. Not only did I have fun and got to know my colleagues better, but I also learned valuable lessons. I learned how to communicate effectively, the importance of trusting others, and how to work together to achieve a common goal.
Flash forward ten years, and I still work with many of the same people. But now, our department is more integrated than ever before. We work more collaboratively, communicate more effectively and share a sense of mutual trust and respect. I don't think this would have been possible without our initial team building experience.
So, younger self, I urge you to start investing in team building experience early in your career. It is an investment that will pay dividends down the road. Whether it's a one-day outdoor adventure, a problem-solving boot camp, or a series of workshops, team-building experiences will help you develop key skills and build lasting relationships with your colleagues.
Don't wait for your boss or department head to initiate team building experiences. Be proactive, and take the initiative. Suggest team-building experiences that you think would be appropriate for your team. And, if you're in a management position, ensure that your team is making time for these experiences.
Younger self, I hope this letter from your future self has resonated with you. Remember, investing in team building experience is instrumental in developing crucial work skills, building strong relationships with colleagues, and improving job satisfaction. Make the investment now; trust me, you won't regret it.
Sincerely,
Your Older Self.