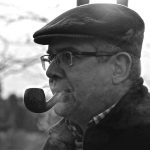 Smoking caps, also known as tobacco caps or lounge caps, were popular men's accessories in the 19th and early 20th centuries. These stylish and comfortable head covers were worn while smoking cigars or pipes to prevent hair from absorbing smoke odors.
The first smoking caps were made from materials like silk or velvet with corduroy lining, and they often featured bold patterns and tassels. In the 17th century, smoking was a popular pastime among the wealthy, and smokers would wear these caps to keep their heads warm during long smoking sessions.
During the Victorian era, smoking caps became more widespread among all classes of men. They became a fashionable accessory and were often given as gifts. Smoking caps were also featured in various artworks and literature, including Sherlock Holmes stories.
The smoking cap's popularity began to wane in the mid-twentieth century as smoking became less socially acceptable. However, smoking caps have experienced somewhat of a resurgence in popularity in recent years, thanks in part to their historical significance and unique style.
Today, smoking caps are primarily worn by enthusiasts of vintage fashion or those who appreciate the sophisticated charm of this accessory. Smoking caps can add a touch of refinement and old-world charm to any outfit, whether it be a casual or formal occasion.
Smoking caps come in various styles and materials. Silk and velvet are still popular choices, but they can also be made from cotton or wool for a cozier feel. Tassels, braiding, or embroidery detailing can add a touch of elegance to the caps. Most importantly, they should fit comfortably and snugly on the head to keep the smoke and odors from seeping into the hair and clothing.
Some smoking caps come with matching pajamas, making for a stylish and coordinated sleepwear ensemble. Smoking caps can also be worn on their own as a fashionable accessory or worn with a matching suit or jacket for a classic and sophisticated look.
While smoking caps are primarily associated with men, women can also wear them. Women's smoking caps usually feature more feminine designs with lace or feminine details. They can be paired with a long dress and heels for a vintage-inspired look.
Smoking caps are a unique and stylish accessory that has stood the test of time. Although they are not as popular as they once were, smoking caps can still add a touch of sophistication and elegance to any outfit. Whether you're a fan of vintage fashion or simply appreciate the history and style of smoking caps, they are worth considering for your wardrobe.