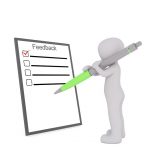 Employee testimonials are reviews from people working in an organization or a business giving their opinion on a range of things from the products, the organization's culture, and leadership. Employee testimonials are one of the most significant tools that a business can use to build a solid reputation. They are essential for companies that seek to improve their reputation. This is they represent the true voice of the organization from the people that have first-hand experience.
Here are some of the ways that employees' testimonials can boost a business reputation:
1. Boosting Credibility
Credibility is a big component of reputation. For a business to be trusted and build a strong rapport with clients, it must represent believability. Employee testimonials help the public have a feel of what it is like to work for business.
2. Help Attract the best talents
An excellent employee portfolio is a great way to build reputability. By sharing employee testimonial and reviews, it makes the business more visible and attractive. This attracts more qualified professionals that help build the name of the company. Working with talented employees is also a great asset to business as there is more productivity and revenues.
3. Social proof
A business that has excellent social proof carries more credibility and authority in its industry. Needless to say, employee testimonials are shared online which helps paint a positive picture of the business and hence attract more visitors and ultimately clients. People want to be associated with a brand that treats its employees well and is willing to let their voices be heard.
4. They help sell the culture of openness
Not all leaders or business owners want to let their employees talk about their experiences. This is out of sheer fear that they might expose the dissatisfaction they might be facing. Finding a business that is willing to share employee's voices shows a great working environment and excellent employer-employee relationship. What a great way to build a reputation!
5. The testimonials become a selling tool
The words spoken by the employees in the testimonials become the selling points for the business whenever they are shared. It is easier for a customer skimping through the company profile to believe what they read or watch from an employee than from an outside client. This puts these testimonials at the front line as selling tools and as reputation-builders for the business.
Giving employees an opportunity to share their experiences, whether through writing or videos, is a bold step that can yield immense benefits. They can make your business grow and your brand to thrive. They are useful tools to make your business credible and build lasting trust with clients and customers.