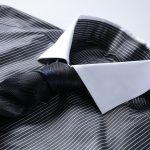 Egyptian cotton is often used in the manufacture of formal shirts, for the simple reason that it is the highest quality cotton in the world. Shirts made with this luxurious fiber make them visibly stronger, silkier and more breathable than those made with ordinary cotton.
History of Egyptian cotton
It is believed that the Ancient Egyptians started growing some cotton in the Nile Valley region way back in 3000 BC, but the growing of the superior quality Egyptian cotton that we know today, only started quite recently, in the 1820s. When it was introduced to Europe, this excellent quality cotton was valued for its silkiness, softness and breathability.
These days, Egyptian cotton is used in the manufacture of a wide variety of items, such as beach towels, bathrobes, bed sheets, as well as the sought-after shirts that are so popular all over the world.
What makes Egyptian cotton so different to regular cotton?

The fibers of this superior cotton are longer than those of regular cotton, which means that there are not as many splices when it is spun so the threads are smoother, softer and stronger.
The threads are also a lot finer than regular cotton, so more of them are used in the manufacture of one shirt and the more threads per square inch of material, results in a stronger, lightweight and extremely breathable fabric.
These extra-long threads also reduce pilling and actually become softer after each wash, which means that the shirt looks and feels better with age.
Benefits of wearing Egyptian Cotton shirts

For the past three centuries, Egyptian cotton shirts has remained one of the biggest advantages to come out of Egypt. Known in every country as the best cotton in the world for its strength, softness and superior quality, have earned it the reputation as being the finest cotton ever, second to none! There are good reasons why it has gained such a reputation. Egyptian cotton is without a doubt the finest in the world, due to the following characteristics that set it apart from other natural fabrics:
• Due to the length of the fiber, it's possible to create the finest yarn in the world, without having to sacrifice the strength of the thread
• Fabrics are more solid and incredibly resistant to stress because of the strength of the fiber
• It has the ability to absorb liquids, giving materials made from this superior cotton brighter, deeper colors that are more resistant
• It is softer than any other cotton produced anywhere else in the world
• Being a breathable fabric, it has great cooling properties
• It is hypoallergenic
All of the above factors have contributed to Egyptian cotton shirt being considered as the best quality cotton in the world.