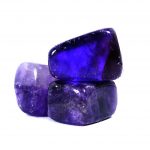 Buy Natural gemstones are a wide grouping of crystals, natural minerals, monomineral aggregates, rocks, and Amorphous materials. They are all classified according to their rareness. Currently the gemstone holding the position as the rarest in the world is the Musgravite. Musgravite has only been known to the world since its discovery in 1967 when it was found in the Musgrave Mountains, in Australia. It fetches a price of $35,000 per carat.
Because of the confusing pricing in the marketplace, gemologist no longer refer to gemstones as precious or semi-precious. In this day in time, many formerly semi-precious stones command a higher price than some formerly precious stones do for each carat.
Crystal Gemstones
1) Amethyst
2) Bloodstone
3) Carnelian
4) Garnet
5) Jade
6) Jasper
Mineral Crystals are created in the earth with the contribution of both minerals and pressure.
1) Diamonds are a crystalline structure formed from pure carbon.
2) Sapphires are composed of aluminum oxide with trace elements of iron, titanium, chromium, vanadium, or magnesium.
3) Emeralds are made from the mineral beryl with trace elements from chromium and/or vanadium.
4) Rubies are made of the same elements as sapphires, but with a larger amount of chromium giving the stone that red color.
Organic Gems created in part by living organisms.
Amber started with Tree sap.
Pearls created entirely by mollusks
Amorphous materials made of non-repeating groups of atoms.
Opals
Ivory
Rocks
Lapis Lazuli
If you set out to buy natural gemstones, it would be a good idea to determine which category of gemstone you'd like to buy from. Will you select your stones simply by appearance rather than rarity, value, or by formation?
Oddly enough, diamonds and graphite or pencil lead share the same atomic composition. What varies between the two substances is the structure of those atoms. The diamond's atoms are in a tetrahedral pattern, while graphite's atoms are arranged in a 'chicken wire' structure.
If price is your primary concern and you start out on the low end of the spectrum. The least expensive gemstones you can buy are amethyst, tiger's eye, citrine, jasper, agate, rose quartz, turquoise, kyanite, onyx, and hematite.
The most expensive gemstones are among the commonly considered expensive stones: diamonds, rubies, emeralds, and sapphires. Diamonds can cost as much as $2,000 to as high as $25,000 per carat. The 4C's determine a diamonds value: color, clarity, cut and carat weight. Ranked in order of most common value the diamond is the costliest stone, followed by the ruby, the emerald and then the sapphire.