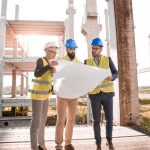 When you're ready to start building or renovating your home, it's important to choose an architect and building designer who is the right fit for your project. Here are some things to keep in mind during your search:
Check for Experience: Make sure the architect you are considering has experience with projects similar to yours in scope and size. Ask to see examples of their work and speak to past clients to get a sense of their process and results.
Communication Skills: A good designer will be a good listener as well as a clear communicator. They should be able to understand your vision for the project and translate it into a workable plan. They should also keep you updated throughout the design and construction process so that there are no surprises.
Creativity: A great architect will have an eye for detail and a creative flair that can bring your vision to life. They should be able to think outside the box and come up with innovative solutions to any challenges that arise.
Flexibility: Things change, and a good architect or designer should be able to roll with the punches. They should be able to adapt their plans as needed without compromising their overall vision for the project.
Reasonable Fees: Be sure to get quotes from several architects or designers before making your final decision. Fees can vary widely, so it's important to find someone who charges a fair price for their services.
By keeping these things in mind, you can be sure to find an architect and building designer who is the perfect fit for your next building project.
Cost of Hiring a Residential Architect
The cost of hiring a residential architect varies depending on the size and scope of your project. For a small renovation, you may only need to pay an hourly rate for the architect's time. For a new construction project, you will likely need to pay a percentage of the total project costs. The average rate is between 5% and 12%.
Of course, the cost is not just about money. You also need to consider the value that an experienced architect can bring to your project. A good architect will save you time and money by helping you avoid costly mistakes. They will also add value to your home by creating a design that is both functional and aesthetically pleasing.
When it comes to building or renovating your home, the cost of hiring a residential architect is worth it. In conclusion, the benefits of working with a professional far outweigh the cost.