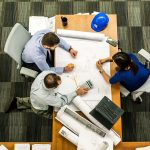 There is a lot of confusion about what it means to be an architect. Many people think that architects just design houses, but this is only one small part of the job. Architects are responsible for the design and construction of all types of buildings, from schools to hospitals to skyscrapers. They must have a strong understanding of both engineering and aesthetics in order to create structures that are both functional and beautiful. In this article, we will explore the many different aspects of being an architect and building designer.
Architects must have a strong foundation in mathematics, physics, engineering and design. In order to become an architect or building designer, you will need to complete a degree program in architecture or construction-related fields. Many universities offer degrees in these areas, including bachelor's and master's programs.
In addition to education requirements, architects must also obtain licensure in order to practice professionally. Licensure requires passing a series of examinations as well as completing an apprenticeship with a licensed architect. Once the license is obtained, you can work on your own or for an architectural firm.
The job duties of an architect are quite varied and complex. Architects often spend their days sketching out ideas for buildings and homes as well as taking measurements and creating detailed plans. They also need to review building codes, local zoning regulations, and site plans. Architects must stay on top of the latest trends in architecture and construction materials, as well as conduct research into potential building sites.
In addition to designing structures, architects also often take part in meetings with clients or contractors to discuss project details. During these meetings, they need to be able to explain their ideas clearly and concisely while listening to feedback from the parties involved. Architects must also be aware of regulations concerning safety and access for those who will use the buildings they create.
Finally, some architects may choose to specialize in a particular field such as green design or historic preservation. These specialties require additional education and expertise beyond what is typically needed for general architectural work.
Overall, architects have a challenging but rewarding job. They must be creative problem-solvers and skilled communicators with an in-depth understanding of building materials and construction methods as well as local laws and regulations. Architects can bring their unique vision to life through the structures they create, making a lasting contribution to our built environment. architect and building designer.