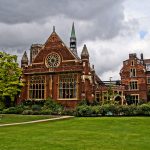 The United Kingdom has produced some of the greatest minds in history. You can be part of this long tradition of academic excellence f you get into the best universities in the UK. Believe in yourself and do the work necessary to get there.
Application
A lot of people don't even take their chance. They talk themselves out of it thinking that they are not good enough. Have confidence in your own abilities and try your luck. You may only get one opportunity so embrace it. Go to the Universities and Colleges Admissions Service website to file your application. Shoot your shot and hope for the best. Make sure that you enter all of the correct details on the form. Pick your desired course among thousands of available options. Pick the universities that you want to get into. Each has its own culture and strengths. Choose wisely.
Examination
There is intense competition for the slots in these prestigious institutions. Only a small fraction of all the applicants will eventually be admitted. Increase your chances of success by studying well for the relevant exam that you will take. This could be the A-levels or an equivalent. You should also have excellent grades from school to convince them to take you in. In some cases, they will also ask you to take additional exams to test for competency. Additional written work may also be required for submission. Think of these as your chance to express your thoughts and win them over.
Interview
If you aced everything so far, then you will be shortlisted by a university and scheduled for an interview. Prepare for this by doing mock interviews with your teachers, parents, or peers. The goals is to become confident enough in yourself and in the stressful setting that you will be facing. With any luck, you will be able to go through it with poise and wit. Anticipate the questions that they might ask. Anticipate the unexpected as well. They will be looking for genuine interest and enthusiasm in your chosen field of study, as well as the school itself. Show them why you are worthy of the slot.
Tuition
Perhaps, after all that work, your efforts will be rewarded with a letter that welcomes you to your dream university. This is a fine achievement that you should be very proud of. However, there are still practical matters to consider. These schools charge a fairly large tuition fee and not every student will be able to afford it. See if there are any scholarship programs that you can apply for. Even partial funding may be enough to make this feasible.