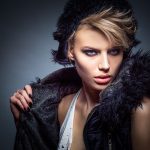 Physical prerequisites such as long legs, great skin and smile, well-proportioned head and broad shoulders will take you far in the fashion industry. However, it is important to note that there are a lot of those features to go around. In order to make it in the fashion industry, you'll need to be more than just beautiful.
Practice! Practice! Practice!
Fashion modeling involves a lot of photo sessions and cat walking. If you are serious about venturing into this lucrative career, you'd be better off familiarizing yourself with the industry. Make a habit of taking pictures all the time and sharing with your friends and family. The more photos you take, the better your skills will get. Also make a habit of modeling around your friends and get tips on areas to improve.
Hang Around Professionals
Most people want to get into the fashion industry as quickly as possible. When things don't go their way, they end up disappointed and often quit their pursuit. If you want to make it big in the fashion industry, you need to be humble and patient. Be around people who specialize in the industry and learn from them. Be willing to take simple jobs around these professionals and learn to wait your turn. For instance, you could look for a job as secretary in a modeling agent's office and see how people are treated around such environments.
Patience
Most good things don't happen overnight and you must be willing to put in the time and effort in order to make it big in the fashion industry. The idea is to stick to the dream as long as you can, making sure you learn more as time goes by. It may take months or even years before you land any good gig, but you can be sure that when it comes your way, it will be bigger than you ever imagined.
Set Limits
When things start working your way, it is important that you don't settle for just any gig. Set up boundaries and never settle for anything less than what you like. Some modeling agents will see your potential way before you see it yourself and will do everything they can to get you into contracts that will tie you to them for as long as they can.
Pay
You should be willing to work for little pay before you can earn the big cash often received by top models. If you want to be featured in Girlfriend Magazine, you should be willing to work on smaller jobs first.