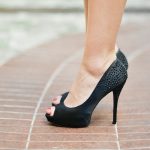 There's just something about black heels. They make any outfit look instantly polished and pulled together, no matter what you're wearing. And they can be worn with anything from skirts to jeans to dresses. Black heels are the way to go if you're looking for a versatile shoe that will take your style up a notch. This guide will discuss everything you need to know about black heels — from their history to the different styles available. We will also give you tips on choosing the right pair for your needs and how to wear them in style. So whether you're a beginner or an experienced heel wearer, read on for all the information you need about black heels.
Have A Timeless Look With Classic Black Heels

Black heels have been in fashion for a long time, and they're sure to never go out of style. This is because black is the quintessential neutral color that can be matched with almost any outfit. Try going for classic black pumps or stilettos for a timeless look. They're the perfect shoes to invest in if you want something to wear repeatedly without looking dated.
Go Bold And Make A Statement With Embellished Heels

If you want your shoe game to stand out from the crowd, then embellished heels are definitely the way to go. Whether it's sparkly rhinestones, sequins, or eye-catching appliques, embellished heels are sure to make you shine. Not only do they look great with any outfit, but they also add an extra dose of glamour to your style.
Keep It Casual With Block Heels

Sometimes, a night out doesn't require anything too dressy, and that's when block heels come in handy. These shoes are the perfect combination of elegance and comfort—they don't have the same height as stilettos or pumps, so you can actually walk around in them without feeling like you're going to topple over at any second! Plus, they come in various styles, so there's bound to be one that matches your wardrobe.
Stay Stylish With Platforms

Platforms are the perfect way to make a statement with your shoes. Whether you're going for subtle or bold, these shoes can really help you stand out from the crowd. Platforms come in different shapes, sizes, and heights, so you have plenty of options for finding a pair that fits your style. They're also great for dressier occasions—just add some sparkly embellishments, and you'll be ready to go.
Platforms are a great way to update your wardrobe and add versatility to any outfit. They're comfortable and stylish and can be dressed up or down depending on the occasion. Whether you're looking for wedges, platforms, or even sky-high heels, there's sure to be something out there that will help you make a statement with your shoes. So go ahead—try some platforms today! You won't regret it.