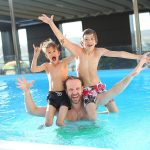 So, you are planning to fence your pool and have no idea what type of fence will guarantee your kids and pets' maximum safety without sacrificing your outdoor aesthetics? You indulge in research and finally decide to install a glass pool fence. But do you know, glass pool fences are not built equal? They vary in quality. Meaning, to maintain your fence integrity, you must prioritize quality. Similarly, your family and pet's safety will only be guaranteed if you install a quality fence.

But the question is, how do you ensure quality for your frameless glass pool fencing?

Buy Quality Glass Panels

Ensure you buy your glass panels from certified suppliers and confirm that they are quality tested and conform to the industry standards. That way, you can be sure of getting high-quality glass panels that will stand the test of time. This means you will have a durable fence if you don't compromise quality on other elements and workmanship.

Well, quality glass panels can break on rare occasions, following a major impact. But will not cause injuries since the craftsmanship used in making these glass panels allow them to shatter into tiny, harmless pieces. On the contrary, inferior quality glass panels will break even on the slightest impacts and can inflict severe injuries to anyone around.

Use Quality Spigots

Spigots make the hardware part of your framless glass pool fence. Similarly, this fitting must also be of top-quality. Compromising on either the panels or spigots will affect the integrity of your fence. Thus, invest in quality fixtures, and your fence will last long without the need for repairs. Professionals recommend the use of fittings fabricated using high-end equipment since they boast durability. Thus, it will secure your fence components safely and firmly without causing any damage to the glass panels. However, get the right experts to handle the installations.

Ensure Compliance with Pool Fencing Standards

Your glass panel fence installations must comply with your state's safety standards. Remember, these rules guide your material sourcing and overall fencing installations. Take time to familiarize yourself with the pool fencing standards in your area. Remember, each material used must have passed the required quality standards. Moreover, the professional handling the fence installations must be certified and approved.
Do you know you can also opt for a customized solution for your frameless glass pool fencing? However, with various manufactures offering tailored fencing solutions, you must be vigilant. You want to deal with an expert who understands your needs and can work with your budget line to offer practical solutions.