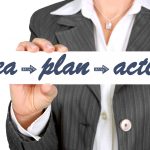 Are you an entrepreneur eager to turn your innovative idea into a reality but lack the funds to do it? Look no further than the Innovate UK Funding Service. The Innovate UK Funding Service provides funding to businesses of all sizes to help turn their creative ideas into successful ventures.
Here's how it works: businesses submit proposals for funding, detailing how their projects will benefit society or the economy. The Innovate UK team then reviews these proposals and selects the most promising ones for funding. This funding can range from a few thousand pounds for early-stage research to several million pounds to bring fully-fledged products to market.
The service is open to businesses across a wide range of sectors, including technology, healthcare, and manufacturing. So whether you're developing a new app or designing a more efficient manufacturing process, the Innovate UK Funding Service could be the key to making your project a reality.
But what sets the Innovate UK Funding Service apart from other sources of funding? One key factor is its focus on innovation. The service's ultimate goal is to support projects that will have a transformative impact on society or the economy, whether that's through new technologies, new business models or new ways of working.
Another important aspect is the support that comes with funding. Innovate UK provides more than just financial support; it also offers expert advice and guidance to help businesses develop their ideas and bring them to market. This support includes workshops, networking events, and access to world-class research facilities.
To be eligible for funding, businesses must be based in the UK and demonstrate that their project has the potential for commercial success. They must also show that their work aligns with one of Innovate UK's priority areas, which include clean growth, health and life sciences, and emerging and enabling technologies.
One recent success story is Vivacity Labs, a company that uses artificial intelligence to help cities better manage their traffic flow. The company secured Innovate UK funding in 2018, which helped it expand its business and develop new products. CEO Mark Nicholson said: "Innovate UK funding has been absolutely phenomenal in helping us grow our business. It's not just about the money; it's also about the advice and guidance that comes with it. Innovate UK has been an incredible partner for us."
But it's not just about the success stories. Even businesses that don't secure funding can benefit from the process. Proposals are reviewed by experts in the relevant field, providing valuable feedback and insights that can help businesses refine their ideas and improve their chances of success in the future.
Of course, applying for funding can be a daunting process, particularly for small businesses or startups. But the Innovate UK Funding Service has made efforts to streamline the application process and make it as accessible as possible. There are several different types of funding available, from grants to loans, which means that businesses can choose the option that best suits their needs.
There are also plenty of resources available to help businesses prepare their applications, including online guides, webinars, and workshops. And if you're unsure whether the Innovate UK Funding Service is right for you, there are advisors available to provide personalised advice and support.
In short, if you're an entrepreneur or business owner with an innovative idea, the Innovate UK Funding Service could be just what you need to turn that idea into a successful venture. With funding, support, and expert advice on offer, there's never been a better time to innovate for the future.