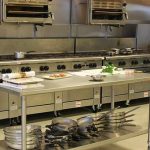 Commercial kitchen flooring epoxy is a great way to keep your kitchen looking clean and new. It is easy to clean and does not require a lot of maintenance. Here are some of the benefits of using commercial kitchen flooring epoxy:
Durability

If there is anything you need to know about epoxy, it is one of the most durable flooring options on the market. It can withstand high traffic areas and heavy equipment without showing any wear and tear. This is because epoxy is a resin-based material mixed with a hardener to create a solid and durable surface.
Low Maintenance

Another great benefit of epoxy flooring is that it requires very little maintenance. You won't have to worry about spills or stains, as epoxy is resistant to both. All you need to do is sweep and mop your floor regularly to keep it looking clean and new. Additionally, epoxy floors are easy to clean and disinfect, making them the perfect solution for commercial kitchens.
Safety

Epoxy floors are also slip-resistant, which makes them safe for commercial kitchens. This is because the epoxy creates a textured surface that prevents slips and falls. In addition, epoxy floors are also fire-resistant, which provides an extra layer of protection in the event of a fire. Furthermore, epoxy floors are also soundproof, which helps to create a calm and quiet working environment.
Aesthetics

Epoxy floors are available in various colors and designs, so you can create the perfect look for your commercial kitchen. Whether you want a sleek and modern look or a more traditional design, epoxy flooring can be customized to meet your needs.
What You Need To Remember Before Getting Them

Although epoxy floors are an excellent investment for any commercial kitchen, there are a few things you need to keep in mind before getting them installed. First, you must ensure that the floor is completely level before the epoxy can be applied. If there are any dips or bumps in the floor, it will cause the epoxy to crack and chip over time. Second, you need to choose a color that will not show dirt and stains easily. darker colors tend to be better at hiding dirt than lighter colors. Finally, you need to make sure that the company you hire to install your epoxy flooring is experienced and reputable. Otherwise, you could end up with a lousy job.
To conclude, there are many reasons why epoxy flooring is the perfect solution for your commercial kitchen. With its easy-to-clean surface, non-slip design, and durability, epoxy floors will give you peace of mind knowing that your kitchen is safe and clean.