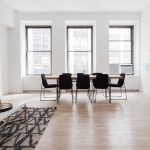 When it comes to flooring, VCT floors are popular in commercial spaces. But with heavy foot traffic and constant use, it's no surprise that these floors can become dull over time. That's when a strip & wax procedure comes into play. This process can breathe new life into your dull VCT floors, making them look fresh and revitalized.
What is VCT flooring? VCT stands for Vinyl Composition Tile. VCT floors are durable, cost-effective, and come in a variety of colors and patterns. They are often used in high traffic areas, such as supermarkets, schools, hospitals, and offices. Generally speaking, VCT flooring is low-maintenance, making it a popular choice for many commercial spaces.
However, even though VCT flooring is durable, it still needs periodic maintenance to look its best. That's where "strip & wax VCT floors" comes in. This process involves stripping off the old wax and layers of grime that accumulate over time and applying a fresh layer of wax. The result is a glossy and long-lasting finish.
The strip and wax process can be outsourced to professional cleaners, but it can also be done in-house by your custodial staff. If you decide to do the procedure yourself, here are some careful steps that will ensure proper execution.
Step 1: Safety First
Wearing safety goggles, rubber gloves and sturdy footwear is a must when doing this process. Also, make sure that the workspace is well-ventilated by opening windows or turning on fans.
Step 2: Remove Furniture & Debris
Before starting the procedure, remove furniture and debris from the area you're working on. This makes it easier to move around and work in a more organized manner.
Step 3: Sweep and Mop
Sweep and mop the floor to remove any surface-level dirt. If there are ingrained dirt and stains, use a neutral cleaner or degreaser to remove them. Make sure the floor is dry before proceeding to the next step.
Step 4: Strip the Floor
It's time to strip the floor. Choose a high-quality floor stripper and dilute it with water. Using a mop or a machine with a stripping pad, apply the solution to the floor, following the manufacturer's instructions. Let the solution sit for the recommended time, typically 10-15 minutes. Then, using a floor machine with a stripping pad, scrub the floor to remove the old wax and grime.
Step 5: Rinse and Neutralize
After stripping the floor, rinse it thoroughly with water to remove any leftover solution. Then, use a neutralizer to ensure that the floor is pH-balanced. If the floor is not pH-balanced, the new layers of wax won't adhere correctly to the floor.
Step 6: Apply Wax
Now it's time to apply a new layer of wax. Choose a wax that's suitable for your VCT flooring and dilute it with water following the manufacturer's instructions. Using a clean mop or machine with a wax pad, apply the solution to the floor, making sure to apply it evenly and thinly.
Step 7: Apply Additional Coats
If needed, repeat step 6 to add more layers of wax to the floor. It's essential to allow the wax to dry completely between each coat. The recommended number of wax layers depends on the level of traffic and use your flooring gets every day. However, the majority of commercial places opt for at least three coats of wax.
Step 8: Buff and Shine
When the last coat of wax is dry typically 24 hours later, use a high-speed floor buffer machine fitted with a buffing pad to buff the floor and bring out its shine. This is the final step in the procedure.
Investing in periodic strip & wax VCT floors can give a new lease of life to your commercial space and protect it from further wear and tear. While the process can be done by in-house custodial staff, it requires a lot of care and attention, so it's best to call in professional cleaners if you're unsure about performing it yourself. Either way, the result is glossy, durable, and long-lasting VCT floors that will make any commercial space look new again.