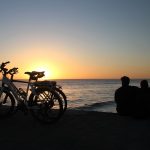 The Canary Islands, which stretch over an area of 2,893 square miles, are a string of Spanish islands located to the south of Spain in the Atlantic Ocean. Eight islands are included, with Tenerife and Gran Canaria being the most populated. Due to its location, these beautiful islands are considered to be a popular pathway or link to different continents such as South America, North America, Africa and Europe.
They are a favorite tourist destination for many different nationalities. Tourists from all over the world flock to the Canary Islands for many different reasons. It is probably because the islands have so much to offer such as natural beauty, breathtaking views, a warm climate, friendly people, delicious cuisine and an inviting environment.
It is for these reasons that they are known for offering some of the world's best options for gay friendly holidays. Many times, members of the LGBT community are not welcomed in many places. This is not the case on these gay friendly Spanish islands in the Atlantic Ocean. You can plan a holiday that is not only fun, but also free of stress. There will be no worries, and you will be made to feel as if you are a part of the island family.
Gran Canaria
Book your stay in Gran Canaria's city of Maspalomas. If you like to lay out on the beach during the daytime and party all night, then this is the perfect holiday destination for you. As a matter of fact, it is considered to be one of the best gay friendly destinations in the world. It has plenty of hotels and accommodations for different types people, tastes and budgets.
In addition to Maspalomas' gorgeous beachfront you can check out other landmarks and attractions as well. Although it is technically a part of the seafront, visit El Faro de Maspalomas, which is a towering 184 ft lighthouse. You could also explore the dunes and bird sanctuaries that are a major part of the island.
Tenerife
Book your stay on Tenerife. It is the biggest of the Canary Islands. It too has plenty of elegant 5-star hotels. Explore its many mountains, valleys and its relaxing beaches. After a long day of exploration or sunbathing on the beach, party until dawn in one of the island's many nightclubs.
All in all, there are plenty of things to see and do on gay friendly holidays in the Canaries.