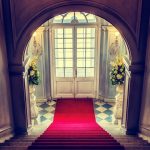 You've just renovated your home and you are looking forward to buying soft furnishings. For your daughter's room, you are looking for a bright pink rug that will really pull the interior together. However, you aren't really sure about the color. Bright pink tends to clash with almost any color combination and finding a suitable rug may be difficult.
Here is what you can do.
• Size: Before you go shopping, make sure you take the general measurements of the room. To get the best fit, reduce the measurements by approximately 2-3 feet so that the rug can fit into the room with a small space around it. If you are not getting an accurate measurement, you can tape off the area and then measure the taped area for the best fit.
• Location: Where you plan to use the rug is also important. You already know that the bright pink rug is for your daughter's rooms. For a larger room, find a rug that will fit under the furniture and under the bed. This will reduce any chances of tripping. If you don't want a single large rug, you can opt for smaller area rugs on either side of the bed.
• Materials: Natural materials are always the best. For example, you can choose from wool, silk, jute, ordinary cotton prints, or even sisal. These are usually pricier and require careful cleaning. Synthetic materials last longer and can be washed easily. However, they do tend to be contaminated with mildew and bacteria and may need to be sterilized or exposed to the sun to ensure cleanliness.
• Style: Traditional pieces like Persian, Oriental, Moroccan and Berber are extremely expensive and are not recommended for children's room. It's a far better idea to use contemporary or modern print rugs as they can be changed regularly to suit personal styles. For an even more eclectic look, trendy styles like kilim, dhurries, ikat, and shag styles are much more fitting.
• Thickness: The pile or thickness of a rug is important. For a bedroom, a high-pile rug may prove to be comfortable to the feet and warming in the morning. However, low-pile rugs are also available, and they are thinner and comfortable to walk on. They also low maintenance and easy to clean.
We hope these few tips have helped you find the best bright pink rug for your home. For more information, you can write in to us and we will be glad to help you out.