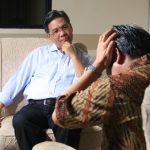 Having OCD can be a difficult experience, but for parents with OCD, it can be especially challenging. OCD, or obsessive-compulsive disorder, is a mental disorder characterized by obsessive, intrusive thoughts and compulsive behaviors that are difficult to control. It can take a toll on one's personal, social, and professional life, as well as on their family life. Here are some tips on how parents with OCD can seek help and support.
Recognize the symptoms
Parents with OCD may not realize that they have the disorder because they may think they are just being careful or have high standards. However, OCD can be quite distressing and can interfere with one's daily life. For example, parents with OCD may have obsessions and compulsions related to cleanliness, checking, orderliness, or safety. They may spend a lot of time engaging in these behaviors, which can impact their ability to care for their children or participate in family activities. Therefore, recognizing the symptoms of OCD is the first step in seeking help.
Find a qualified therapist
One of the most effective ways for parents with OCD to seek help is to find a qualified therapist. Therapists who specialize in OCD can help parents learn how to manage their symptoms and improve their quality of life. They can provide cognitive-behavioral therapy CBT, which is a type of therapy that helps individuals retrain their thoughts and behaviors. It can also help them learn coping strategies to manage their OCD symptoms and reduce their anxiety.
Join a support group
Parents with OCD can benefit from joining a support group. Support groups can provide a sense of community and understanding, as well as practical tips and advice from others who have experienced similar issues. Support groups can be found through national organizations like the International OCD Foundation or through local mental health clinics or hospitals.
Learn relaxation techniques
Parents with OCD can also learn relaxation techniques to help them manage their stress and anxiety. Yoga, meditation, deep breathing, or progressive muscle relaxation can be effective ways to calm the body and mind. They can be practiced daily or when needed, such as during times of high stress or anxiety.
Involve family members
Parents with OCD can involve their family members in their treatment and recovery. Family members can provide emotional support, encouragement, and understanding. They can also learn about OCD and how it affects their loved one. By understanding OCD, family members can provide a safe and supportive environment for their loved one to manage their symptoms.
Practice self-care
Parents with OCD can also prioritize self-care, such as getting enough sleep, eating a healthy diet, and exercising regularly. These basic habits can improve one's well-being and reduce stress and anxiety. Taking time for oneself can also help parents with OCD reduce their symptoms and improve their overall quality of life.
Consider medication
In some cases, medication can be useful for parents with OCD. Medications like selective serotonin reuptake inhibitors SSRIs or serotonin-norepinephrine reuptake inhibitors SNRIs can help manage the symptoms of OCD. However, it is important to speak with a qualified healthcare provider before taking any medication.
Parents with OCD can seek help and support to manage their symptoms and improve their quality of life. Finding a qualified therapist, joining a support group, learning relaxation techniques, involving family members, practicing self-care, and considering medication are all effective ways to manage OCD. By recognizing the symptoms of OCD and seeking help, parents can take control of their lives and provide a stable and nurturing environment for their children.