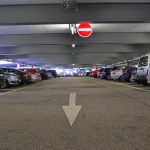 An automated parking garage is a smart structure that can reduce fuel consumption and car emissions. In addition, it will create a safer environment for residents and businesses. While the technology has been around for a while, it's finally making its way to the American market. It's been perfected over the years, and now, it's ready to save you money and space.
The most common automated parking system is the carousel, which uses a series of fixed rails to transfer vehicles vertically. This system is most useful in residential developments. However, it can also be used outdoors.
Another type is the Lift & Slide/Puzzle Lift, which allows cars to shift horizontally and vertically. It's most effective in office and residential developments, where space is tight. To make it work, a valet program is required.
The Automated Parking Garage (APG) in Santa Monica, CA, is the latest of its kind. It's a 55-foot high, 1,600-square-foot structure with 39 spaces. When it opens, it will be the largest of its kind on the West coast. Though it's not the first in the country, it represents the latest and greatest in automated technology.
There are several robotic parking structures, some in Los Angeles and Washington, D.C., and others in New York, Chicago, and Hoboken. Although not yet available to the general public, these systems have already been installed in other cities.
One of the more interesting features of an automated parking garage is the ability to decrease the amount of space needed for each car. The structure can hold up to three times as many cars as a conventional garage. Because there is no human access to the vehicle, there's no risk of vandalism or theft. Also, it can be safer because it doesn't require stairways.
A robotic parking garage may be the best solution for meeting the needs of car owners in the United States. Specifically, it has been shown to increase a facility's parking capacity from 68 to 200 spaces. And because it's a more efficient use of space, it can help eliminate some of the challenges associated with conventional self-parking garages.
As with any new technology, the automated parking garage has its limitations. One is the risk of a fatal fall due to the machinery. If the equipment is faulty, there is a danger of a vehicle falling multiple stories. Even worse, an unsuspecting employee could be crushed by a falling vehicle. For this reason, the parking garage must be designed with safety in mind.
Aside from the safety factor, an automated garage is a great way to conserve energy and space. Since the garage isn't traditional, it can also be built at a lower cost. It's also easy to build, and the process isn't complex.