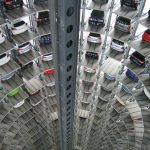 Automated Parking System is emerging technologies that allow vehicles to be lifted and stored in stacks, freeing up valuable land space. By freeing up this land space for other uses, planners can create more efficient cities or find new ways to use current infrastructure to its full potential.
A single automated car stacker will store between 6-12 cars. These machines can increase parking capacity by 30% [1] [2]. In a city like New York, with high real estate value but limited parking spaces available from garages, the benefits of automated parking systems become apparent. This kind of system would add extra storage capacity for vehicles and help reduce congestion in city streets since drivers wouldn't need to circle around searching for a spot.
There are several benefits to stacking cars in this way. As stated previously, the capacity is increased by 30%. This means that fewer stocks are needed for a given number of vehicles. Another benefit is efficiency when it comes to delivering cars back to drivers. A human parking lot attendant would have to travel up and down the rows of parked cars looking for the one you need or would require some sort of communication system between driver and attendant. With an automated system, the car returns itself when you want it, and it doesn't matter where it was stored, so no additional communication systems are required. The automation also prevents theft by preventing unauthorized entry into the storage area.
As with any technology, there will be drawbacks. With an automated system, you won't have the face to face interaction with a parking attendant, so in areas where people want that human connection, there may be some resistance. There is also the risk of theft if someone gets into the storage area when it isn't occupied by cars. It has been noted that because these machines are rather large, they can damage or even crack concrete when inserted into floors [3]. This could lead to expensive repairs down the road if this technology becomes widespread across cities.
The benefits of automated parking systems are numerous and outweigh any initial concerns. These systems can increase revenue for businesses who use them since they will allow more vehicles to be parked on their property, increasing customers available for their business. Also, because these machines decrease the need for city planners to use valuable land space for parking, we can expect to see less residential and commercial real estate prices. As more roads become available for other uses such as biking or walking, it will improve the quality of life in cities across the world.