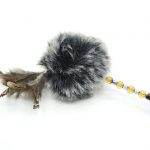 As a pet owner, you probably know that cats are curious and playful animals. They like to explore their surroundings and hunt prey, even if they are indoor cats. But did you know that playing with your feline friend using a cat feather toy can provide them with many physical and mental benefits?
First and foremost, playing with your cat using a feather toy is a great way to exercise. Cats need regular physical activity to stay healthy and prevent obesity-related health problems. A feather teaser can be an excellent tool to get your kitty up and moving. You can dangle it in front of them, or flick it around, which promotes jumping, chasing, and pouncing – all which provide an excellent workout for your furry friend.
Additionally, playing with feather toys can fulfill your cat's natural hunting instincts. Cats are lovers of chase-and-pounce games, and a feather toy can mimic the motion of a bird, stimulating their hunting behavior. It can provide a satisfying outlet for your feline to fulfill its predatory tendencies, making it feel good about its natural instincts.
Playing with your cat using a feather toy can also provide mental stimulation. Like humans, cats need mental exercise to stay sharp and avoid boredom. A feather toy can engage your cat's mind, providing challenge and excitement as they try to catch the feather. It can also reduce destructive behavior caused by boredom and anxiety, like scratching furniture or chewing household objects. You can keep your kitty occupied and happy with only a few minutes of playtime each day.
When choosing a feather teaser, you'll want to consider the quality of the product. Some toys may be flimsy or easily breakable, making them unsafe for your pet. Look for toys with sturdy and flexible rods, which can hold up to a cat's sharp claws and energetic play. A good-quality feather toy is durable and can last for months, providing endless hours of entertainment for you and your furry friend.
As you play with your cat feather teaser, it's essential to keep safety in mind. Cats can become overexcited during playtime, and it's crucial to monitor their behavior to avoid accidents. Be careful not to hit your cat with the toy, and don't let them chew or swallow pieces of the feather. It's also important to supervise your cat during playtime and put the toy away after each session to avoid it becoming a choking hazard.
Playing with a cat feather teaser is an excellent way to provide your pet with many physical and mental benefits. It can keep them healthy, happy, and mentally stimulated, all while providing an exciting and fun bonding experience for you both. Invest in a high-quality feather toy and spend a few minutes each day playing with your furry friend, and you'll see how much they'll love this enjoyable activity.