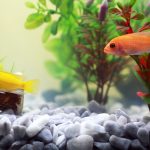 Fish is significant in making your water features worth the beauty and everything living creature in your pond. Therefore you need to be highly considerate of the types of foods you buy for your fish; these creatures enhance your pond beauty and ensure a balanced environment in your pond. Although there are various food types available in the fish market, you need to be careful on what you choose to ensure at the end of the day your creatures maintain their health standards or even do better as they keep your pond clean and save much time for cleaning. Most people prefer using the Pond Sticks in their ponds for various reasons, but before you decide on this or otherwise, you need to consider the following:

Quality

High-quality fish food is of great benefit to both the fish and the ponds; the contents of these foods are considered in that they are rich in the essential minerals your fish need to grow and release less and non-toxic waste products. You will realize that the low-quality foods are rich in phosphates which is not suitable for your pond as it facilitates rapid growth of algae leading to green water, which is harmful to your fish. However, phosphates are necessary for fish growth; the food should have a low mineral concentration and be highly concentrated with vitamins and probiotics.

The packaging

You should be very careful about how the food is packaged; ensure you buy foods that are well packaged with high-quality bags. You are aware that when the vitamins p[resent in fish food get exposed to light and air for long, the value degrades, and it might even end up useless. Ensure that the bags can be easily sealed back after you open for the first time.

The protein source

Finding the best protein source for your fish is among the most significant achievements you make in ensuring you get nothing but the best for your fish. For instance, the Pond Sticks have the best protein source; they contain amino acids that ensure the fish will grow well and keep any damaged parts repaired. While you focus on the protein source, you should ensure the other contents are well balanced to facilitate proper growth.

Conclusion

Fish reared in ponds need special attention; you should watch your feeding habits in that you do not put too much food in water that can sink deep and facilitate algae growth. Before you make the decision, you should find help from an expert near you.