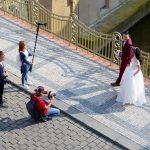 You should be careful when you want to Hire a Family and Wedding Photographer. Unfortunately, there are many Fake family and wedding photographers out there.
You should look for the following tell-tale signs that you're dealing with a fake family or wedding
photographer:
• They don't have an official website, but only social profiles.
• The price is too low.
• They meet your first requirement of "good quality" but offer a very low rate.
• They always have "last-minute openings."
• The quality of their images is low, but they have a lot of good reviews.
One of the best ways to find some of the best family and wedding photographers is to go through a reputable family and wedding photography blog.
Of course, if the blog only features the same few photographers over and over again, that means that they're probably paying for advertising space or trading free services for reviews. You can find a good balance by looking at other types of related websites, especially wedding forums. If you want to find the best family and wedding photographers, you should also read their past work.
After all, "a picture is worth a thousand words," and there's little need for explanations when something speaks for itself. You can even ask to see some of their other portfolios to make sure they're not faking it. It's also much cheaper to hire a professional family and wedding photographer based in a different city/country.
You should be especially careful when you're in a rush to Hire Family and Wedding Photographer because this is often when these scam artists will try to trick you into hiring them. There are many good photographers out there, so don't feel pressured to hire someone simply because the date is coming up soon.
There are many fees that family and wedding photographers charge, so you should ask about them directly. For example, do they shoot all photographs in color? Will they provide prints of each image? What's their policy on digital rights?
Of course, getting a verbal or written contract is always a good idea. However, if they seem reluctant to work with you on this, it probably means that there's something shady going on, and you should look for another photographer.
You should also ask about their payment policy before hiring family and wedding photographers. Many photographers will not accept any payments until after the event has ended, and you can see the finished product for yourself.
Of course, you should be certain that the family and wedding photographer is experienced. A good place to start is by asking them about past family and wedding events they've shot.