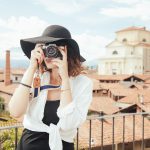 Looking to take your photography skills to the next level? Or maybe you're just starting out and want to know more about photography in San Diego. In either case, this article is for you! Here we will discuss some of the best places to take photographs in San Diego, as well as what times of day offer the best light. We'll also give you a few tips on how to improve your photography skills. So whether you're a pro or a beginner, read on for all the info you need on photography in San Diego!
Balboa Park is one of the most popular places to take photos in San Diego. This 1,200-acre urban cultural park offers stunning views from its many gardens and green spaces. From the botanical garden to the museums and theatres, there are plenty of interesting photo opportunities here. If you're looking for something a little more urban, then take a trip downtown to the Gaslamp Quarter. This district is full of colorful streets, alleyways and architecture that makes for some fantastic photo ops.
Another great place to take photos in San Diego is Coronado Beach. The sand here is soft and white, with views of the city skyline in the background. It's the perfect place to capture a sunset or sunrise, and there are plenty of interesting things to take pictures of — from boats in the harbor to people playing volleyball.
For those with a taste for adventure, Torrey Pines State Natural Reserve is an excellent spot for photos. The reserve features breathtaking cliffs and beautiful hiking trails that offer plenty of opportunities for outdoor photography. There are also lots of interesting plants and animals to take pictures of in this lush park.
Balboa Park is another great spot for photos. This sprawling urban park features a number of gardens, museums, and cultural attractions that make it ideal for taking pictures. You can wander the pathways, capture colorful blooms in the gardens, or zoom in on some of the park's more unique architectural features.
The Coronado Bridge is one of San Diego's most iconic attractions, and it's a great place to take pictures. Whether you choose to take photos from one of the bridge lookout points or get creative with angles while walking across the span, you'll be sure to get some stunning shots.
Last but not least, San Diego's beaches are prime spots for photography. Whether you want to take pictures of people playing in the surf or capture sunsets from a beachfront boardwalk, you can find an array of photo opportunities here. Be sure to check out the San Diego Pier, too – the unique architecture of this pier makes it a popular spot for photography and can provide some truly memorable shots.
We hope this information on photography San Diego was helpful.