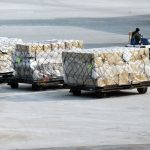 When looking to improve your business, there are many different ways that you can do so. One of the ways is by using eCommerce shipping solutions. These can be used to provide you with a range of different benefits, including the possibility of expedited shipping.
ShipStation
ShipStation is one of the leading web-based eCommerce shipping solutions on the market. It helps online retailers with order processing, inventory management, and eCommerce shipping. The software offers several integrations with leading carriers, shopping carts, and fulfillment services.
ShipStation's interface is easy to use and allows users to automate a number of actions. This includes printing shipping labels and packing slips. It also allows customers to track their shipments. The software features a variety of integrations, including PayPal, Mail Chimp, QuickBooks, Wombat, and ChannelAdvisor.
With ShipStation, users can print up to 500 orders at once. They can also set up custom branding on their packing slips and tracking pages. This can help to make their eCommerce store stand out from the competition.
In addition to shipping, ShipStation also provides an automated return portal. It's especially useful for brands that sell products on multiple channels. The software automatically prints return labels for packages.
ShipBob
ShipBob is a third-party logistics (TPL) platform that helps businesses manage inventory, process returns, and deliver products. It's a cloud-based solution that provides a variety of functionalities to optimize fulfillment.
ShipBob focuses on delivering the fastest, most reliable shipping options. It provides two-day shipping throughout the continental US. This is a great option for small to mid-sized companies that need to ship more than 100 items per month.
ShipBob's order fulfillment process is automated, saving you time and helping you stay on top of your orders. You can also receive updates and reports about the status of your orders. This information can help you plan ahead and prevent stockouts.
ShipBob offers a variety of integrations with popular eCommerce platforms. These include BigCommerce, WooCommerce, and
WooCommerce
WooCommerce offers a number of shipping solutions to suit every business and budget. These include free, local, and flat-rate shipping methods. You can also opt for a return label for shipping items back to you.
WooCommerce's shipping options are easy to set up and offer a range of features. These include order routing, printing shipping labels, and shipment tracking. With a few clicks of your mouse, you can configure your store to ship orders at competitive rates.
Many third-party plugins also support WooCommerce shipping. These add-ons can extend the functionality of your store and allow you to add virtually any shipping option.
The XPS Shipping plugin integrates with XPS web-based shipping software, which offers a full shipping solution. The software uses a simple interface that increases efficiency and automates repetitive tasks.