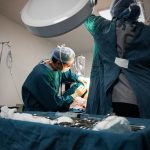 Surgery is one of the well-established treatment methods for cancer. However, surgical procedures are often a stressful process for the patient, with plenty of risks involved. Robotic cancer surgery is a relatively new method of cancer treatment that uses robotic surgical machines. It's an advanced technique that offers personalized care, faster recovery, and exceptional accuracy.
A robotic surgical machine, also known as a robot-assisted surgical system or robot, is a device used by surgeons to perform operations with greater precision and control. A robotic surgical machine consists of an arm-like apparatus with surgical tools, connected to a computer. The computer is programmed to control the instruments and movements of the robotic arm.
During robotic cancer surgery, the surgeon sits at a control panel, operating the robotic surgical machine, which holds the surgical instruments. The surgeon uses hand and foot controls to maneuver the robotic arms, and the high-definition, 3D camera provides a magnified view of the surgical field. The precision and accuracy of the robotic surgical machine allow for complex surgeries to be carried out with minimal blood loss and a reduced risk of complications.
Robotic cancer surgery is a minimally invasive procedure, meaning that it requires only small incisions compared to open surgery. Smaller incisions offer various advantages such as reduced blood loss, less pain, and fewer complications. A small incision also means a shorter recovery time, less scarring, and earlier return to normal activities.
Robotic cancer surgery is an excellent alternative for patients who are not candidates for conventional surgery. It can also be used to treat a wide range of cancer types, including prostate, lung, colorectal, gynecologic, and head and neck cancers. Robotic surgery is often used as a complement to other cancer treatments, like chemotherapy, radiation therapy, or immunotherapy.
The use of robotic cancer surgery is becoming increasingly popular due to its benefits over traditional surgery. For one, its precision and accuracy allow for better identification and removal of cancerous cells without damaging nearby healthy tissue. Additionally, it uses less anesthesia than traditional surgery, which can reduce the time that patients spend under anesthesia.
Unlike in traditional surgery, the robotic surgical machine provides a high-definition, 3D view of the surgical field, which permits the surgeon to see intricate details that may not be visible in conventional surgery. The surgeon can also control multiple robotic arms, which translates to quicker procedures and less time spent under anesthesia.
Medical professionals and patients alike have embraced robotic cancer surgery as a game-changer in the field of cancer treatment. Robotic surgery is a highly effective, minimally invasive procedure that provides faster recovery times, shorter hospital stays, and reduced postoperative complications.
Robotic cancer surgery is a revolutionary, highly precise, and personalized approach to cancer treatment. Its unique features make it an invaluable tool for surgeons to offer the best possible outcomes to their patients. While traditional surgery remains a viable option in cancer treatment, robotic surgery has proven to be capable of delivering even better results. With the constant advancements in medical technology, robotic cancer surgery is expected to continue evolving, improving the lives of patients and doctors alike.