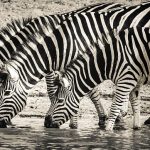 When going on a safari, it's important not to always look for the best prices but also to book with a company that promotes ethical safari. There are several important things to observe while on ethical safari Tanzania and they include:
Respect the local which involves asking them for permission while taking photos, be polite and respectful to everyone. The other is to avoid direct contact with animals while on safari or on game drive. Keeping distance from the animals is necessary because one will be able to observe them interact freely with each other and the environment.
Some parks also allow the tourist to alight from their vehicles and have a close interaction with the animals, although there are some rules that may be needed to be followed. Example, not feeding the animals, and avoiding too much noise
When watching some of the dangerous animals while in the vehicle and they are about to cross the road, it advisable to put off the engine and wait for the to cross the road first without hooting.
There are several places where one can visit while on an ethical safari in Tanzania and they are such as:
Visiting the Masai people

The Masai people are generally welcoming and friendly and they live in huts called Manyatta which are mainly constructed by the women using cow dung. They have large herds of cattle and practice pastoralism as their main source of income.
Hiking Mount Kilimanjaro

This is the highest peak in Africa and there are different routes one can use while hiking, thus its advisable to go with local guide who knows the routes well, and who can also act as a porter.
It's also important to agree on the amount the porter and the local guide should be paid before starting trekking. For those people who love camping, it good to carry their camping gears because there are camping sites as they go up and down.
Visiting Serengeti National park

This national park is the home for several wildlife such as the wildebeest which migrate yearly and watching their migration is so spectacular. The migration usually takes place between the months of June and October, although tourist can also visit during other times of the year, since there are also other different animals like the black rhino and the big cat.
While planning to go on an ethical safari Tanzania, it's also important to look for an ethical operator because they know exactly what's is supposed to be done.