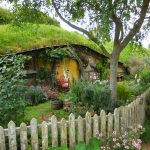 It is a common misconception that a romantic gift must always be related to flowers, chocolates, or other mushy gifts. Romance is a private and intimate aspect of your relationship with your partner.
If your husband would simply love the opportunity to bungee jump or parachute from a plane or spend time in Lord of the Rings tours, then selecting such a gift for a special occasion like a birthday or anniversary may be the most romantic thing you can ever do.
Come to think of it, a tour based on the LOTR movie series will probably tick all the boxes as far as conventional romance is concerned. A walk through the homely and beautiful Shire on a warm summer morning with the scent of flowers in the breeze will be a great way to celebrate a special occasion.
Or, you can explore the rolling fields of the Rohan people and take in the lush green grass and then try your hand at some horse riding as well. You can follow this up with a trek tracing the journey of Bilbo and the Dwarves to the Misty Mountains or the dark struggle of Frodo and Sam to Mordor itself.
This tour will be a wonderful way to relax without having to plan a full-fledged holiday from scratch. Just sign on to the tour and you are good to go. You can also opt for add-on tour that help you explore the back country of New Zealand, which is where the entire movie series was filmed.
You can rough it out during the day with the option of returning to luxury at the end of the day. Of course, you will always be surrounded by other fans of the Lord of the Rings tour. Such a trip will certainly be a much happier and joyous holiday compared to a conventional stay in a luxury hotel followed by shopping, time at the beach, or other routine and mundane activities.
Of course, you can also prepare for the vacation by having a LOTR movie festival at home. You can cook up some snacks, get everybody to return home early, and have a movie marathon watching the entire Hobbit and LOTR series from start to end in a single shot.
Finally, the Hobbit series or the Lord of the Rings series are just two of the many movie series that have related tours for fans and enthusiasts. Once this is done, you can move on to Harry Potter tours and then explore other fantasy and adventure movie tours as a part of your annual holiday plan.