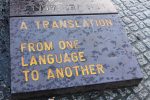 Arabic is fast becoming popular in Perth and this means more opportunities for translators. If you have an interest in the language, then you can make a career as an Arabic translator in Perth. As a professional translator, you can work in the private sector, public offices, and homes. It all depends on where the service is needed.
Essentially, Arabic translation entails examining written documents for meaning and recreating its meaning in another language such as English or French. For starters, you have to be fluent in written and spoken Arabic. Then you'll need to be fluent in at least one other well-known language. Simply, you need to be a fluent bilingual speaker. Translators should also be familiar with a variety of translations such as literal and idiomatic. In addition, you'll need to meet a few requirements, including:
1. Education
Though it's not a basic requirement in most cases if you can speak and write Arabic properly, you may be asked to provide proof of schooling in some cases. This includes homes, health institutions, and legal setups. So, it's advisable to take a Degree in Arabic Studies.
2. Certification
There's no standard universal certification for Arabic translation but there are a variety of local tests that you can do to get certified. It depends on the area of specialization. For example, you can get federal certification to work in the federal courts or medical certification to work in the medical sector.
3. Specialized Training
In addition to the Degree in Arabic Studies, you need specialized training. Such programs are offered in local colleges and they deal with technical aspects like medical interpretation, finance, and software application.
4. Industrial Skills
Some of the skills that you need to properly fit into the industry are dexterity (ability to interpret sign language), interpersonal skills, and listening skills. Of course, you need great Arabic writing and speaking skills as well to stand out in the Arabic translation industry. It also makes you an all-around translator.
5. Work Experience
Before you can start offering translation services for money, you may find it ideal to build your portfolio. You need to gain industrial experience beforehand. You can start with volunteering in legal and health sectors. In turn, ask them to recommend you.
With the above steps, you can easily become a top Arabic translator Perth has to offer. The steps will also come in handy in your marketing as you try to establish your name as a translation brand. This will convince the clients that you are really worth the opportunity.