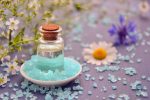 Skin stays healthy and beautiful when it receives the care and pampering it deserves. Your skin care routine will keep your skin clean and soft. After you have cleansed your face, a toner is used to remove any remaining makeup residue, dirt and dead skin cells. The toner serves several purposes. It gently cleans the skin, while preparing it for the serum or moisturizer you intend to apply next. A rose toner is created by distilling rose petals and extracting its natural essence.

Hydrates the Skin Naturally

A good toner should hydrate the skin naturally, and that is just what you can expect from a rose toner. Unlike toners that have alcohol as a key ingredient and dehydrate the skin, a rose facial toner hydrates the skin and prevents water loss. While it cleans the surface efficiently, it does not strip it of natural oils. This ensures that the sebaceous glands do not overproduce natural oils or sebum to deal with dry, dehydrated skin.

A Healing Touch

For centuries, rose petals have been used to pamper the skin, and also to heal it. Rose petals are anti bacterial and gentle on the skin. People with all kinds of skin types can use a rose toner safely. As roses naturally inhibit inflammation, a toner made with roses would calm irritated and sensitive skin. Whether you are treating sunburn, skin irritation or acne, rose water and toner offers a soothing and healing touch.

Soft, Supple Skin

Facial skin changes with age and with regular exposure to pollutants. It is possible to slow down the appearance of fine lines and wrinkles by using a rose toner daily. Roses do not just win hearts with their beauty and fragrance, but also offer the skin a rich dose of antioxidants, and vitamin A and vitamin C.

Vitamins A and C are referred to as anti aging vitamins as they promote the natural production of collagen. And thus, keep the skin soft and supple. As roses are rich in antioxidants they offer the skin protection from the damage that free radicals can cause.

Things to Keep in Mind When Shopping for a Rose Facial Toner

When you shop for a skin care product, especially for your face, it is likely that you pay close attention to the ingredients that are in it. Like all products are not the same, this is also true of roses. Look for toners that are made from Damask rose or Rose De Mai. Researchers find that rose water distilled from these plants is the most potent.