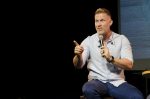 A speakers bureau is a company that helps speakers get the word out about their speaking engagements. They help speakers find jobs, manage their schedules, and connect with potential clients. Speakers bureaus are in high demand because they have developed an effective system for assisting speakers in growing their businesses. If you are interested in starting your own speaker's bureau or looking to work with one already established, here are three things you should know before signing on the dotted line.
What Does A Speakers Bureau Do?

A speakers bureau will help find speaking engagements for its members by placing them into conferences and trade shows where they can speak about topics related to what they do best. The organization manages all of the logistics so that all the speaker has to do is show up and deliver their talk. Additionally, they take care of and negotiate speaking fees. Speaking fees are the rate that speakers receive for giving a talk at an event.
How To Choose One?

There are many speakers bureaus out there, but your business must go with one that provides you with value and works within the guidelines set forth in your contract. It's also important not to be seduced by promises of high fees or large speaking venues without actually having any experience doing these kinds of things. When looking at various speakers bureaus, ask them about how they got started, what types of clients they have worked with before, and whether or not they will provide references from past clients so you can get an idea of working together would really benefit both parties involved.
Why Are Speakers Bureaus In High Demand?

First, speakers bureaus help speakers grow their own businesses by increasing visibility within the industry they serve. Second, these organizations have developed an effective system for assisting speakers in increasing sales or signing new clients. Finally, since many speakers bureaus maintain relationships with conference organizers across the country (and even globally), it makes sense that hiring a speaker through one of these groups would be easier than trying to find someone on your own who has availability at the right time in your area. Taking advantage of what the speaker's bureau offer can benefit both you as the client and them as well, so make sure you consider this before signing.
To finalize, speakers bureaus are an effective way of finding speakers for events. Still, individuals should use caution when signing up because speakers can be expensive depending on what agency you go through. Speakers bureaus offer some benefits, such as making it easier to find speakers who already have experience in your field or those who will fit into your budget. Hence, it is essential to weigh these factors accordingly before choosing which is best suited for your needs.