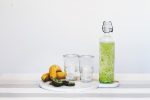 Most people want to help the planet and reducing plastic is part of that mission. Following are some major reasons why switching to reusable bottles will be great for you as well as the environment.
Less waste with a reusable bottle — people use around 50 billion plastic free water bottles every year in the US, which costs 17 million barrels of oil. Only 23% of these are recycled! Even if more people made an effort to recycle, the country would still be paying the environmental costs of bottling, transportation and so forth.
Save money — the markup on plastic bottles of water is astronomical because of the water supposedly coming from fresh water springs or mountain streams. You can save a significant amount of money by simply filling your reusable bottle with water at home.
Protect your health — plastic isn't only damaging to the environment, it's harmful for your body too. Studies show that the polycarbonate plastic used in many household items and food products, slowly leaks bisphenol-A (BPA), a chemical, into the liquids and foods that are stored in containers manufactured from this dangerous material. These chemicals can not only alter hormones in the body, but have other adverse affects on the body and can also cause permanent injury or even death to animals as well.
Do your bit and join the worldwide movement — do what millions of people are doing all over the world by ditching those plastic bottles and switching to eco-friendly Plastic Free Drink Bottles.
Still more good reasons to switch to reusable bottles
Plastic bottles contain plastic fibers, meaning that you're actually swallowing plastic every time you drink from a plastic bottle! You can prevent this by simply using a glass bottle or stainless steel flask instead.
Environment-friendly alternatives to plastic bottles
Although plastic bottles are convenient and user-friendly, they are causing untold damage to the environment. It is estimated that there are about 46,000 plastic items floating in the sea and when plastic is not recycled, it will take more than 1000 before it decomposes!
With this in mind, it makes sense to switch to an environmentally-friendly alternative to plastic bottles, such as:
Glass — although fragile, it keeps drinks tasting amazing and stay cold for longer than plastic when out of the refrigerator. It is also way more recyclable and maintains the same high level of quality no matter how many times it's recycled.
Stainless steel — these days, stainless steel bottles are made with a lining to eliminate that metal taste. The lining also keeps water and other liquids cold for even longer than glass. Being a natural conductor, a metal container will keep cold liquids cold and hot liquids hot.