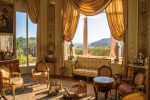 Planning a holiday to Spain? Whether you are looking for a fisherman's cottage, a gorgeous villa or a golden-stone countryside farmhouse, you can find it all in Spain.
The high season in the months of July and August happens to be the time of the year when villas are most in demand and most pricey in Spain. If you can manage to get away in the offseason months of June or September, you can pay around 30 percent or less. There's less variation in the Canaries with all-year round beach weather though the November-March window is regarded as the high season.
Majorca and Ibiza feature some of the most expensive villas in the summer but tend to be cheaper in the spring and early autumn. Costa Brava is gorgeous but expensive and Costa Daurada to the south of Barcelona offers a cheaper alternative.
Depending on the season and time of year, booking a good family villa in Barcelona can be both challenging and rewarding.
Explore Barcelona's Art, Architecture and Culture
Barcelona is famous for its awe-inspiring art and architecture, which features brooding cathedrals, magnificent Gaudi creations, and myriad museums. From marveling at picturesque Modernista structures to exploring the widely celebrated Hansel and Gretal-inspired Guell Park, there is a lot to see and do in Barcelona.
If you want to enjoy this aspect of the city, avoid the busy summer months or major Christian holidays like Easter and Christmas otherwise you might find yourself stuck in ridiculously long lines at major attractions like the Basilica de la Sagrada Familia.
Most of Barcelona's top attractions are actually located outside where temperatures can sometimes get unbearable. If you are not a big fan of the outdoors, schedule your visit during the Spring season from May to June.
Romantic bargain vacation
The winter season from November to March is the slower-paced low season in Barcelona when there are less tourists around. It's also one of the best times of the year for you and your loved ones to enjoy some peace and relaxation in an affordable getaway. If you are looking to book an affordable family villa in Barcelona, you are in luck—prices drop exponentially during the winter months.
The good news for bargain hunters is that winter in Barcelona is pretty mild compared to other Spanish cities. If you are simply looking to be in the middle of it all, book your vacation between late Spring and early Autumn and get to witness some of the largest music festivals in the world including the Primavera Sound, the world's largest indie.