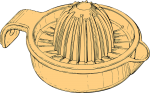 A more nutrient-rich eating routine is the way to a healthier lifestyle, that's why many people choose to juice because it offers numerous advantages. But it can become confusing when it comes to choosing the best slow speed juicer that meets your needs and is budget friendly. There are only 2 things you need to consider when picking a slow speed juicer.
There are two main types of juicers: masticating and centrifugal. Most people choose centrifugal juicing machines because they cost a lot less and typically offer an easier cleanup. Their very popular among first-time juicers, especially those with a limited budget. You also have masticating juicers, which are very high-end and cost more, and these juicers deliver more pulp. However, you can get the same level of health benefits from buying a centrifugal juicer.
The Best Slow Speed Centrifugal Juicers
1. The L'Equip Pulp Ejection Juicer: Space saving, attractive and perfect for a beginner juicer. With any juicer, the main goal is to get every last bit of juice possible of the fruit or vegetable, and with high ratings, L'Equip outperforms many mid-level juicers. It has a pulp-ejection system that eliminates clogging and it's easy to clean. It also has an attractive price tag that starts at around $100. When it comes to overall value and performance, this is one of the top picks.
2. Breville Juice Extractor: This model is simple, yet powerful. It has a stainless steel disc that separates the juice from pulp and a safety locking alarm that ensures everything remains inside the juicer. It has averaged 4.5 out of 5 stars and most people comment on the extra large pulp collector with allows you to juice for longer before stopping to remove and clean pulp. The parts are dishwasher safe, and there are several models with a good mix of prices and features.
3. Hamilton Beach Big Mouth Juice Extractor: If you don't want to invest big bucks, this Hamilton Beach juicer is budget-friendly. It has an extra large tube to feed fruits and vegetables into the unit, and because it's quite large, you don't have to worry about cutting up the items. It's dishwasher safe, has an attractive stainless steel design and is priced around $60. It works efficiently, and the only downside most users comment on is it can be noisy, however, most juicers are quite loud. It's a smart purchase if you want to discover a healthier lifestyle without spending hundreds of dollars.
Since all centrifugal juicers work basically the same way, you just need to decide how much you're willing to spend and what features are the most important to you. In terms of budget, you can pick up a decent entry-level juicer to get into the routine of living healthier for under $60. There are a ton of reasons why you should introduce juicing into your life, and nowadays, most devices are pocket-friendly.