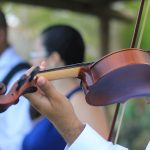 An important part of just about any special gathering is the music that will be played at the event. Whether it's a celebratory party with friends or it's a beautiful wedding ceremony, finding the right band is an essential part of ensuring that you will be able to enjoy your favorite music and that everyone will have a good time.
When considering Sydney wedding bands, keep in mind that the band you choose will play a key role in determining the overall flow and feel of your reception. The party after the marriage ceremony is often a time for family and friends to visit with one another while also celebrating the wedding with music and dancing. It should be fun for everyone. Whether you like country music, pop, rock, or some other genre, it's important that you choose a band that is capable of playing some of your favorite songs, but they should also have experience playing a wide variety of music.
Weddings are typically much different than other special events in the fact that there are generally guests ranging in age from young kids up to senior citizens. If you choose a band that only knows how to play the latest hits, chances are many of your guests are not going to enjoy the celebration as much as they would if there was also music that met their particular preferences.
Of course, when you're looking for Sydney wedding bands for hire, you'll also need to make sure that you know exactly what you're booking. Everything should be explicitly spelled out in the contract. From the date and time the band is expected to be at the venue to the number of hours they'll be needed to play. Make sure the price, either a flat fee or hourly rate, are included in the contract along with the number of band members that will be at the event and any special services they'll be required to perform, such as being the MC or accepting music requests.
Spend some time listening to a variety of different bands before signing a contract. See how they handle working with an audience if at all possible. It's important to be very clear with what you need and communicate with the band so that you're all on the same page. If you want the band to start playing at a certain time, make sure that is included. Additionally, if there are certain songs you know you'll want them to play, make sure that they have the music and know what you expect from them.