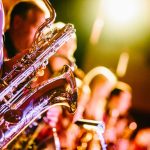 Everyone loves music. Whether it's listening or dancing to it, the feeling is unrivaled. If there is a genre that is good to listen to and better to dance to, it has to be swing music.
If you are part of a swing band, then you must understand how popular the bands are. However, you have to market your crew effectively if you want to get the best-paying gigs. Clients are almost everywhere — with the target points being weddings, corporate events, private parties, and concerts.
To promote your swing band in these points, however, you have to strategize. To help you out, here are 6 marketing ideas that most swing bands for hire are using nowadays.
1. Use Social Media Maximally
Being only on Facebook is not enough. You have to use other platforms such as Twitter, Snapchat, Instagram, and YouTube to build a vast fan base. On the platforms, you should always try to:
• Grow your social followers
• Engage your fans
• Post your recent tracks
• Post about what you are currently up to (tours that you plan, videos you are shooting, or charity events that you are currently involved in)
All these will help your audience to connect with you more.
2. Have a Compelling Website
In this day and age it's almost impossible to effectively compete with others if you don't have an active website or online presence. You need a website that can compel your fans and clients to consider hiring your swing band.
3. Possess a Personalized Logo
You need a business logo to establish the identity of your swing band online and offline. Your fans and clients are able to identify the logo and link it to your swing band.
4. Take Part in Local Events
Before contemplating taking your swing band globally, you have to start locally. Attend the local events and perform there. You can also do street performances.
5. Stream Your Music
Today, availing your music to streaming platforms like iTunes and Spotify is a great marketing approach for swing bands for hire. The prospective clients can discover your crew fast on the platforms.
6. Create a Distinctive Album Cover
Lastly, you should have an attention-grabbing cover for a newly released album. The cover should encourage your audience to buy your CD or attend your live concert.
Conclusion
Genuinely, you can only get as many clients as you desire if you choose to promote your swing band. With the above ideas, you'll be able to do more gigs and improve the revenue of your swing band.