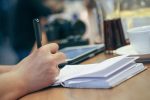 Are you looking for a comedy writer to create content that keeps your audience laughing? Finding the right professional can be a daunting task, whether it's for an upcoming project or a regular assignment. To make the process easier, we've compiled this guide on how to find the best comedy writers for hire.
Start With Your Needs

Before you search for potential candidates, it's important to determine what kind of comedy writer you need and what skills they should possess. Consider whether they will write sketches, stand-up routines, or jokes; if they need experience in specific topics like technology or sports; and if there are any other special requirements such as being comfortable in front of the camera or writing for a particular age group.
Check Out Writer's Platforms

Once you have an idea about what kind of comedy writer you need, it's time to start searching. Several online platforms connect writers with potential employers, such as Content Marketplace and Upwork. On these sites, you can view each writer's profile information and past work samples to get an idea of their experience and style. You can also post job openings on these platforms, so interested writers can apply directly to your company.
Explore Creative Communities

In addition to the major writer's platforms, numerous websites and forums are specifically dedicated to comedy writing. For example, websites like Reddit Comedy Writers or Funny or Die feature conversations between experienced writers and enthusiasts, giving you the opportunity to pick their brains about the industry and find potential candidates. Additionally, several subreddits are dedicated to different types of comedy writing where writers can post projects they're working on or offer their services.
Look for Referrals

When searching for a comedy writer, referrals from trustworthy sources can help narrow your options. Ask friends or colleagues who have previously hired comedy writers for recommendations or look through reviews on sites like Glassdoor. If you're part of an industry organization or network, reach out to other members and ask if anyone has experience working with particular writers.
Interview Candidates

Once you've identified a few potential writers, you must have a thorough interview process. First, ask them questions about their work experience, writing style, and any other relevant topics you can think of. If possible, ask for samples of past work or have them write something on the spot so you can get an idea of their skillset and creativity.
Finding the right comedy writer doesn't have to be overwhelming if you know where to look. By following these steps, you'll be sure to find the perfect candidate for your project or assignment. With the help of this guide, your search for the best comedy writers for hire will be successful and enjoyable!