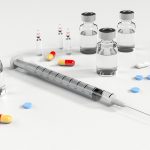 Pharmaceutical Intermediates are made up of the chemical compounds that are the main constituent for producing the pharmaceutical components. These intermediates are the result of the process of production or synthesis of pharmaceutical elements.
There has been a constant surge in the pharmaceutical intermediate market as the various sickness including the infectious and chronic diseases are on the rise. This wave of infections have already pushed the production of these intermediates beyond expectation; however, more output is in the forecast for future need. Medical research and analysis activities carried out by the research and development department of major pharmaceutical agencies also acknowledge and support the production of pharmaceutical intermediate and the growing market of these medicines. Companies are more inclined towards expanding the therapeutic unit, which in turn results in the broader output of the pharmaceutical intermediate.
North-America is forecasted to generate the highest in pharmaceutical intermediates production when it comes to revenue generation mainly because the territory comes with the state of the are health care structure. Europe is not far behind including the many developed countries who are actively pursuing more production and expansion plans as the demand is increasing for these pharmaceutical intermediates.
Pharmaceutical intermediates come in a batch or group that is separate from another and have different attributes such as the product classification, the application, use of distribution channel and the type of classification according to the treatment. The two segments of the pharmaceutical markets for the intermediates are the GMP and non-GMP, and the section consists of antibiotics, vitamins, antipyretic analgesics, and others. Based on the distribution method, the segments are either for direct sales or go to the end market through distributors channel who market and sell the product to the consumer end and ensure the shelf life of the pharmaceutical is kept sufficient to meet the demand of the market.
Many factors promote the growth of this segment. These include the patent expiry that in turn support the growth of the intermediate segment. The constant investment in the R&D activities and the demand for new therapies are also contributing towards more production and facilitation of intermediate pharmaceutical market. Many regions now have strict policies that oversee the production and regulation of these intermediates and some countries that cannot produce these intermediates due to technical and quality restriction, outsource the production to other regions to meet their local demand for the pharmaceutical intermediates.