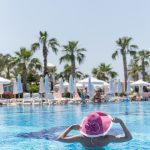 Finding the perfect vacation destination can be a tricky process. It can be even trickier if you are looking for kosher all inclusive resorts that upholds kosher dietary law. Fortunately, many great options are available for those seeking to combine their religious beliefs with the convenience and fun of an all-inclusive resort experience. Here is how to find the best kosher all-inclusive resorts.
Do your research before deciding on any one particular resort. Read reviews from previous guests and talk to people who have visited these resorts to get a sense of what they offer and their commitment to upholding traditional kashrut laws. Also, look into each hotel's amenities, such as spa services, private beaches, and other attractions.
Check the Kosher Certification:

When considering a particular hotel or resort, check to see if it has been certified kosher by the local rabbinate. This will ensure that all food served at the resort is prepared according to traditional Jewish law and that no non-kosher items are included. Contact them directly for more information if you are unsure of a particular establishment's certification status.
Look for Other Special Features:

In addition to looking into certification status, you should also consider what other special features the resort offers that would benefit those observing kashrut laws. For example, some resorts provide designated times when only guests of Orthodox observance can use facilities such as the swimming pool, spas, and other amenities.
Look for Specialty Menus:

When researching resorts with all-inclusive kosher packages, look into what type of meals they offer. Many resorts have specialty menus that cater to those observing kashrut laws and only feature ingredients approved by rabbinical standards. This can help ensure that you have the most enjoyable vacation possible while adhering to your religious beliefs.
Consider Location:

When choosing a resort for your trip, think carefully about where it is located. For example, you may want to stay at a hotel or resort in an area of the world where there is a large Orthodox Jewish population, so you can find a larger selection of kosher restaurants and other attractions. Additionally, you may also want to consider a resort that is close to several Jewish sites of interest, such as synagogues, schools, or other places of worship.
By researching thoroughly and keeping in mind the features listed above, you can find the perfect all-inclusive resort for your next vacation that adheres to your religious beliefs. With a bit of effort and planning, you are sure to have an unforgettable experience at one of the many great kosher all-inclusive resorts available around the world.