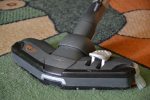 Simply searching for a quick Shark vs Dyson vaccum comparison won't help you find the right vacuum cleaner for your home or office. If things were that simple, then there would be no need for manufacturers to make different models with different features, right?
So, check out these points before you proceed to comparing models and products using online and offline resources.
Understand your Needs
Choosing a Shark vs Dyson vaccum is not rocket science. Yet, it is not just about browsing through the features and making a choice at random. The first and most important step is to understand your own needs.
Again, this not as simple or easy as it sounds. Walk through your entire home or office and cast a critical eye on all your cleaning needs.
Do you have a lot of low furniture that's either at or very close to ground level? If yes, then you obviously need a cleaner that is slim enough to pass through small gaps so that no part of the floor remains dirty.
From down low, it's time to go up high. How high is your ceiling? If it is higher than normal, then you will have to choose a vacuum cleaner that comes with enough attachments to help you reach the very top without having to stand on top of a ladder.
Further, the weight of the cleaner becomes important since you will have to carry it or have it slung around your shoulders when reaching out to high places.
Weight and Dimensions of the Machine
And then the weight is an important factor even if you have a standard-height ceiling. Light is good but the reduction in weight should not come at the cost of power of the motor and cleaning capacity.
Weight apart, the dimensions of the cleaner should make it easy to handle. This may not seem like a big deal but having to wrestle the nozzle around a bulky and unwieldy cleaner can be a very tiring experience.
The X-Factor
An extremely dusty environment? Wet and dry cleaning? What's the X-factor in your home or office that makes your choice of the cleaner so important?
Once you have analyzed these factors, you will find it easier to compare options and check out different models. With clear knowledge of what you want, and more important, what you don't want, you can find the best value for money buy for your cleaning needs.