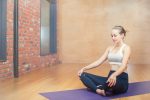 Mindfulness meditation has been practiced for thousands of years and not without reason. It offers profound physical and mental benefits to the practitioners. Numerous scientific researches attest to the positive impact of mindfulness on our body, mind and emotions and its ability to heal and transform our lives. Read on to know some of the benefits of mindfulness training.
Brings mind to the present
Meditation enables us to tap into our awareness and brings our mind to the present. The mind for the most part is engaged in thinking about the past or the future. Either it is angry, regretful and sad about what has happened or is feeling anxious about what is about to happen. Meditation anchors your mind in the present and helps you enjoy your life more.
Frees you
With continued practice, you are able to let go of your inner barriers and limitations. It fills you with courage and confidence. You learn to trust yourself and free yourself of all kinds of limitations that you might have set for yourself.
Brings a sense of peace
This calming practice has a soothing effect on your mind and emotions. A sense of peace prevails as you go about your daily activities. With a calm state of mind, you can see things as they are and are better equipped to respond instead of just reacting to whatever is happening outside. You are more grounded, centered and less affected by the world.
Prevents illnesses
Studies have revealed that our mind has an effect on our overall well-being. Most of the diseases prevalent today have been termed as psychosomatic; they originate in the mind. In order to thrive and heal physically, it is crucial to pay attention to your mental, emotional and spiritual nurturing.
Eliminates stress
Everyday meditation helps deal with the pressures of daily living. Stress has become an inevitable part of life and affects one and all. It creates toxins in the body, which in turn is responsible for a host of ailments. Regular practice of meditation helps release accumulated stress and also prevents additional stress from accumulating in the system.
Quieting the mind and meditating is a skill which is best learned from a trained teacher. Ask your family and friends or search online to know about a qualified teacher in your area who can teach you the art of meditating.
Meditation is the need of the hour. It is said that the more responsibilities we have, the greater is the need for us to meditate. Just a few minutes of meditation in the morning and evening is all it takes to bring the smile back on our face.