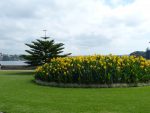 Explore the Magnificent Sydney
If you want a traveling experience that you will not regret, going to Sydney is the best decision you can take. The beautiful city of Australia attracts thousands of travelers daily from all over the world. People travel from a far distance to enjoy the many activities the city has to offer. There is so much to do here, from exploring the landmarks, enjoying nature, experiencing shopping. The list goes on, and one can find a host of daily activities, and the lively nightlife of the region is also a celebration to savor. While in Sydney, people get to visit and see spectacles like the magnificent skyline and picturesque harbor. Sydney is truly a holiday destination for people of all ages.
Sydney Shore Excursions – Explore the Best Parts of Sydney
There's nothing better than to book a guided Sydney shore excursion tour to visit the city and explore it to the fullest. Many reputable tour companies offer these tours and provide you with luxury air-conditioned transportation as you cruise through the city. The services will pick you up from your cruise, hotel, or other accommodation, and after a day of touring, they will drop you back. You also have the option to customize these tours by having a tour bus for your private gathering and including the destinations you want to tour.
Sydney Shore Excursions – Things to Do
The trip will cover the views of all the famous architects of the city. These include visiting the Sydney Opera house, and a tour to the Sydney Tower Eye. Visitors can get on top of these buildings to see the stunning views of the city from the top.
The Sydney Shore Excursions will take you to the heart of the city attraction! The places where you can interact and see the many animals the city has to showcase. As an animal lover, you will find wildlife tours full of fun and highly engaging. The tour will include trips to the Sydney Zoo as well as a visit to the SEA LIFE Sydney aquarium to see over 700 species of sea creatures. In case you are wondering, yes, you will see Kangaroos on your tour as well!
There is so much to do during your tour. The excellent idea is to check the plan of the touring day so you can check all the destinations you will visit. You can always ask the touring firm to arrange some private tours or cover the places that are not part of their regular tour plan.