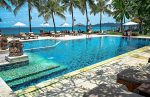 As more people travel the world, many travelers are looking for exclusive travel experiences outside the normal tourist circuits. Many destinations have started to cater to people who are looking for more than a typical vacation and who want to enjoy luxury facilities and five-star amenities. It is now possible to see Antarctica, join a safari in Africa, or visit the Taj Mahal in India without having to compromise on comfort and luxury.
Luxury Trains in India
Luxury trains are an excellent way to see the world while enjoying high standards of accommodation and service. For the adventurous there are luxury trains in India that tour some of the most interesting sites and that provide accommodation in private cabins. These train serves high-quality food and contains exclusive bars and lounges. There are also similar luxury trains in Europe, in parts of Southeast Asia, and in South America.
Exclusive Cruises
Luxury cruise ships tour many destinations such as the Greek islands and the Caribbean, but the most exclusive luxury cruise destinations include Antarctica and the Galapagos Islands. There are cruise ships that contain only a few spacious luxury cabins and that allow you to view wildlife while enjoying five-star services such as a jacuzzi and private butlers. Luxury cruises are also available in other destinations and generally include accommodation in suites, fine dining, spa facilities, and an itinerary that includes private destinations that are not allowed for standard cruise ships.
Luxury Wildlife Safaris
If you enjoy wildlife, it is possible to join a safari without having to give up any luxuries or comforts. Many African safari destinations offer exclusive private safaris with five-star accommodation. You can see wildlife from comfortable private vehicles and return to your luxurious lodge that comes with five-star facilities, such as spa and massage treatments, swimming pools, or even private pools, and excellent meals and drinks.
Exclusive Beach Vacations
If you are looking for a relaxing beach vacation in the ultimate luxury, the best destinations include the Maldives and Seychelles. These island groups are known for their stunning luxury resorts, high-quality service, and private tropical beaches. For a truly exclusive experience consider booking a private island.
Luxury travel and unique travel experiences are now available in many fascinating parts of the world. Many travel companies and tour operators are specializing in exclusive travel experiences from five-star private islands to unique cruises. If you feel adventurous, choose a luxury train in India or an exclusive safari in Africa.