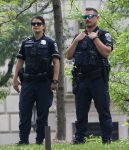 Any retails business has assets on their premises as well as cash that need protection against theft or damage that will incur the business a loss in profits.
This is where the retail loss prevention manager and his/her team steps in.
If no such manager is present in that specific retail store the store manager or floor supervisor does those duties.
This person will be responsible for not only hiring Retail Security Services as an outside entity or in-house department but also to oversee the running of that whole sector of the business.
This will include:
The hiring and firing of security officers for in-house departments
Hiring and firing of outside companies if that option is chosen
Oversee the setup of the retails security system from cameras to placements of security officers or guards at strategic points in the business
The running of all security matters relating to that business sector under his or her section.
The Retail Security Services itself works hand in hand with the manager to make sure everything runs smoothly as possible without any hiccups to keep any losses at the bare minimum.
The security officers or guards are all trained in the many aspects of security protocols and functions from body searches of confirmed culprits to camera surveillance to visual surveillance and even detaining of apprehended thieves and their stolen items.
Some of these officers and guards are also responsible, depending on the rank and duties as per their contracts with the retailer, for the cash transit duties.
They move the cash from the cashiers to a safe room where it is kept overnight or until they or another cash in Transit Company then transports it to the bank.
These companies always make sure you have a safe and secure shopping experience and work with not only the store managers but also very closely, sometimes overstepping the boundaries, with the police department or sheriff's office.
Their jobs are not one of the highest paying in the market of security agencies even though some of them have to carry firearms on duty.
Also, though many carry firearms their training is not as rigorous as the police department or other police enforcing agencies like the sheriff's department.
These have led to many "battles" between them and these departments but are still a vital part of the security of not only the assets in retail but the clients of the retail facilities as well.