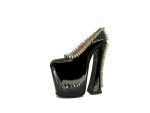 Some fashions vanish with time, paving the way for new styles, then later make a comeback in the industry. That is exactly the current situation with creeper platform shoes. The advent of the new pointed creepers has accelerated the desire for these shoes. The question is, why is this footwear creeping back into the market?

Stylishness and Versatility

The newest design, "pointed creepers," seems to attract the attention of many fashionistas. They term it as perfect wear for a complete partying style. Undoubtedly, the designers spent quality time improving the old creepers to give the stylists something fancy to rock in.

While the type of shoe you choose for your stunning and modish outfit matters, remember, finding that perfect footwear that will offer comfort is vital. The beauty in the creepers is they do justice to the wearer's outfit without compromising comfort. For once, ladies have found an excellent alternative to heels. Similarly, men cannot get enough of wearing creepers, especially on special occasions like weddings. These shoes look effective in any apparel, meaning they can be worn casually or formally.

Diversity

The creeper's designer has acknowledged that people have different tastes and preferences. They have ensured every buyer's needs are met by diversifying this shoes' design to accommodate different styles, colors, and materials.

Check in the market, and you'll find creepers made from popular suede to leather. When it comes to the styles, the options are amazing. Whether you want closed or open tiptoe creepers, you'll get them. There are elegant designs for various seasons, from winter to summer. Ideally, the buyer's mode of dressing, needs, and preferences are all covered. The diversity in creepers makes dressing them so easy.

It's the newest trend

Many designers and fashion models are rocking in these shoes. They've proven that creepers are versatile. These fashionistas' sense of style is remarkable and has drawn the attention of many. Now everyone is ready for a makeover. The old fashion is now simplified but classier and refined. Buyers want to evolve with the changing industry trends and still enjoy fashion flexibility. Imagine the convenience you'll get from buying creepers, considering that you can pair them with different outfits.
You may have many shoes in your closet, but if you miss out on creeper platform shoes, your footwear collection is incomplete. If you desire a pair of shoes that can look stylish on anything, that's the role of creepers. Let's embrace this comeback style that's now the star of the show.