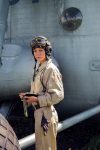 The Federal Aviation Administration (FAA) working together with the Department of Transportation (DOT) created the part 107 regulations. The regulations stipulate that all commercial pilots must obtain a part 107 remote certificate issued after passing the part 107 test. The test entails one-hour random questions that test general knowledge and topics such as aeronautical charts, radio communication, drone maintenance, weather reports and other relevant topics covering FAA regulations. Suffice to note, passing a part 107 test is not a walk in the park thus, it needs adequate preparation and advanced research on the tested areas.
According to the FAA regulations, all commercial drone pilots must have this remote pilot certificate document for verification to work in the field of specialty. The commercial pilots include all those who fly generating profits. Commercial drone applications are inclusive of sales of photos taken using a drone, large-scale applications for instance real estate marketing, surveying land, and remote sensing activities. It is projected that in the near future that delivering parcels will become practical. Therefore, the demarcation used to define what commercial drone applications are is explicitly identifiable at this point.
The requirement that all drone pilots must pass a part 107 test prior to licensing creates standards for measuring the knowledge of drone pilots. Licensing, therefore, means that the FAA has the capacity to keep track of all drone pilots. This as well creates mechanisms for measuring output, liability, and accountability in the field of aviation. Today, drones have become more than expected and before thus posing questionable marks to safety and security concerns. Therefore, apprehension of the FAA for such strict measures is a plausible initiative.
Set conditions have been set to define eligibility of pilots. For eligibility, one must be sixteen years and above, have the capability to read, write, speak and as well understand English and pass the aeronautical exam. The requirements for qualifying for remote pilot certification are that one must be easily accessed for remote piloting especially during UAS operations. The certificate is valid for only two years thereafter one must pass the recurrent part 107 test after every set two years. Also filling the FAA form for remote pilot certification using electronic FAA integrated application systems is important.
Part 107 test determines the competence of drone pilots before certification by the Federal Aviation Administration. Working after certification is important as it is a measure of competence. Federal Aviation Administration has laid strict rules for certification following the rise in the number of drones that have raised eyebrows on security and privacy matters.