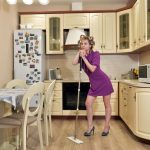 Moving out of an apartment can be a stressful and daunting task. As you are packing up your belongings and preparing to leave, it's important to remember that apartment move out cleaning is a necessary step in the process. This step can often be overlooked or rushed, but it's important to give it the attention it deserves. Here's why:
Firstly, the cleanliness of your apartment will affect whether or not you receive your security deposit back. Most landlords require that the apartment be returned to them in the same condition in which it was rented. This means that any damage that has been done must be repaired, and the apartment must be cleaned thoroughly. If the apartment is not returned in satisfactory condition, the landlord may withhold part or all of the security deposit to cover the costs of repairs and cleaning.
Another reason apartment move out cleaning is important is because it reflects on you as a tenant. Leaving an apartment in disarray and dirty can make it more difficult for you to rent another apartment in the future. Most landlords will check with previous landlords to see if the tenant was reliable and maintained the property well. A positive reference will go a long way in the rental market.
Additionally, thoroughly cleaning your apartment before moving out can help facilitate the process of moving. Cleaning as you go while packing and removing your belongings will also help reduce the overall amount of work you must do, as well as provide a good opportunity to make a cleaning checklist. This list can help ensure that you don't overlook anything during the move out cleaning process.
When it comes to apartment move out cleaning, there are some important steps you should follow to ensure that you leave your apartment in good condition. Here are some tips to help you get started:
Firstly, assess the damage and the areas that need attention. You must take note of any wall or ceiling stains, scratches on floors, and any damaged items. Notify your landlord of damages before proceeding with your cleaning to avoid being charged for items you did not damage.
Next, start with the basic cleaning tasks. Clean the walls, surfaces, kitchen appliances, floors, and bathrooms. Pay attention to any areas that may have been overlooked during your stay. For example, check for grease on kitchen cabinets, dust on top of light fixtures or moldings, or any buildup of shower scum.
Make sure to clean any air vents, change its filter, and dust around them. Giving the apartment a fresh coat of paint can also make a significant difference and remove unsightly blemishes on walls or ceilings.
Lastly, don't forget to remove all the trash, including any unwanted items that may have accumulated over time. Deep cleaning the floors and carpets with a reliable shampoo or vacuum can also revitalize the apartment.
Apartment move out cleaning shouldn't be a task to rush or overlook. It's important to give it the attention and effort it deserves because it can have an impact on your future as a renter. A detailed cleaning checklist can help ensure areas aren't missed during the cleaning process. By taking your time to do it right, you increase the chances of getting your security deposit back and leaving on good terms with your landlord. Selling or renting your apartment can be an effortless process if you ensure you leave it looking shiny and clean.