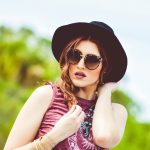 The best luxury sunglasses don't come cheap, so it's important to know what to look for when buying a pair. Here are 5 things to check:
The brand — Many high-end sunglasses brands are out there, but not all of them are created equal. Do your research and choose a brand with a good reputation for quality.
The materials — Luxury sunglasses are usually made from higher quality materials than their cheaper counterparts. Check the frames and lenses to make sure they're made from durable materials that won't break easily.
The construction — Pay attention to how the sunglasses are put together. Make sure the frames are sturdy, and the lenses are securely attached.
The fit — A good pair of luxury sunglasses should fit snugly and comfortably on your face. They shouldn't slip or move around when you wear them.
The price — Luxury sunglasses can be quite expensive, so make sure you're getting a good deal by comparing prices from different retailers.
If you keep these things in mind, you'll be sure to find the best luxury sunglasses for your needs and budget.
Types of Luxury Sunglasses
There are many different types to choose from when it comes to luxury sunglasses. The most popular styles include aviators, cat-eye, and wayfarers.
Their large lenses and metal frames characterize aviator sunglasses. They were originally designed for pilots but have become a fashion staple.
Cat-eye sunglasses have a retro appeal and feature upswept lenses that resemble a cat's eyes. They're a popular choice for women who want to add a bit of glamour to their look.
Wayfarer sunglasses are one of the most iconic sunglass styles around. They have a rectangular shape and thick plastic frames. They're perfect for both men and women who want a classic look.
How to Choose the Right Luxury Sunglasses for Your Face
Not all luxury sunglasses are created equal. Some styles will look better on certain face shapes than others. Here's a quick guide to help you choose the right pair:
If you have an oval-shaped face, you're lucky because almost any style of sunglasses will look good on you. Try out different styles and see which ones you like the best.
If you have a round face, go for sunglasses with angular or square frames. This will help to make your face look longer and thinner. Avoid round frames, which will only accentuate the roundness of your face.
If you have a heart-shaped face, choose sunglasses that have wide frames. This will help to balance out the narrower top half of your face. Conversely, avoid narrow frames, which will make your face look even more top-heavy.
Now that you know what to look for, it's time to start shopping for the best luxury sunglasses for your face shape. With so many different styles to choose from, you're sure to find the perfect pair.