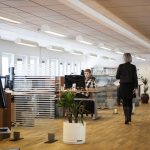 When it comes to the workplace, there are many different design options to choose from. It can be difficult to decide what will work best for you and your team. Herewe will discuss three main points to consider when designing your workspace: productivity, comfort, and creativity. Keep these things in mind as you make your final decisions, and you will be sure to create a space that is perfect for your needs.
Productivity:
One of the most important factors to consider when designing your workplace is how productive you and your team will be. You want to make sure that the space is functional and conducive to work. This means including plenty of desk space, storage, and comfortable seating. It may also be helpful to create separate areas for different tasks, such as brainstorming or meeting with clients.
Comfort:
Another key factor in workplace design is comfort. Employees should feel good in their environment, both physically and emotionally. This can be achieved by incorporating natural light, plants, and other elements into the space. It's also important to provide a variety of seating options so employees can choose what works best for them.
Creativity:
The workplace should be a place where employees feel inspired and creative. This can be achieved through the use of open spaces, natural light, plants, artwork or even fun furniture pieces like bean bags or hammocks! It's also important to include plenty of windows for natural ventilation as well as access to outdoor areas if possible.
In addition to these elements, there are other simple ways you can encourage creativity such as providing whiteboards throughout your work so people have somewhere to brainstorm ideas on their own time without feeling pressure from others watching over them all day long.
Why is a workplace design important?
There are many reasons why workplace design is important. Firstly, it creates an environment that encourages productivity and creativity from employees who may otherwise feel bored or uninspired by their surroundings.
Secondly, designing your workplace will help with the flow of traffic throughout buildings which can reduce accidents such as slips trips hazards due to poor lighting or clutter left behind on desks etcetera.
Lastly but probably most importantly; workplace design helps increase employee satisfaction levels which leads them to be more engaged in their work tasks thus increasing company profits too.
In conclusion, workplace design is something that all businesses should be considering as it has so many benefits including increased profits and employee satisfaction levels.
An investment in workplace design can help you achieve your goals of increasing productivity by creating an environment that encourages people to work hard.