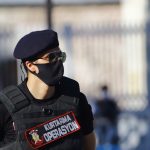 Dealing with the pandemic has forced governments to put up special facilities for various aspects of the response. This required the mobilization of architects and other planners to come up with suitable designs. It has made it essential to find contractors that could move fast enough to keep up with the demand. Doctors, nurses, and staff from various institutions had to be deployed to these facilities for adequate manpower. Pandemic response security guards were also called in to maintain peace and order in and around the facilities. They took care of entry screening and area security. They augmented the police forces in the following places:
Isolation Centers
Most of the people who have tested positive for the virus are asymptomatic or have mild symptoms. If they have the means to isolate at home, then they are usually encouraged to do so. However, some might not have homes that are conducive to isolation. They may have to go to isolation centers to prevent infecting their families. Others might be travelers from abroad who have to undergo a mandatory quarantine period before being allowed to roam freely. The isolation centers could be hotels near the airport or some other suitable accommodations that could keep them comfort for the prescribed period.
Testing Tents
Testing the population is one of the best ways to track the extent of the infections within communities. By testing everyone who needs or wants to check their status, the people are better able to understand their exact situation and take appropriate safety precautions. Without these, the public might get a false sense of security thinking that there are low numbers of affected individuals when there are actually more roaming around without knowing that they are spreading the disease. In order to decongest the hospitals, a lot of testing tents have been set up in different places. Some even allow drive-through to minimize contact.
Vaccination Hubs
Now that vaccines are rolling out across the country, vaccination hubs are going up to speed up the process. Most places require online registration so that interested parties can secure a schedule. This prevents long lines and limits the number of people in the facility. Everything can proceed in an orderly manner. Pandemic response security guards can be assigned to protect the supply of vaccines and ensure that only registered individuals can get inside. They can enforce the safety protocols and take care of any trouble that might arise within the vicinity.