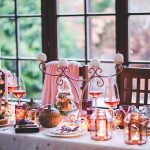 Christmas is a time for family, friends, and fun. It's also a time for decorating! If you're looking for some new ideas to add some art into your holiday decor, you've come to the right place. In this blog post, we will discuss some ways you can use art to make your Christmas decorations more festive and beautiful. Let's get started!
Hang Artwork On Your Walls
One of the simplest ways to incorporate xmas art into your holiday decor is by hanging artwork on your walls. You can use framed pieces, unframed posters, or even prints that you have made yourself! Choose artwork that's festive and fun, like winter scenes or colorful Christmas trees. If you want to change the look of your artwork throughout the Christmas season, you can use removable wall decals or even attach them using removable adhesive tape.
Frame Silhouettes Or Shadow Boxes
Another way to incorporate art into your holiday decor is by framing silhouettes or shadow boxes. You can create these yourself at home with black paper and a craft knife, or use free-standing shadowboxes that you can easily move around. If you're going to create these yourself, try using Christmas trees, snowmen, or other winter scenes as the subject of your silhouettes.
Hang Holiday Ornaments On Your Wall
Another festive way to incorporate art into your home during the holidays is by hanging Christmas ornaments on your wall. These are available in all sorts of different colors and shapes, so it's easy to find the ones that best fit with your theme. You can also use vines, branches, or other natural material to create holiday-themed wreaths and hang them from the ceiling instead.
Make An Advent Calendar
If you're looking for a way to countdown the days until Christmas, consider creating an advent calendar. This is a great way to add some visual interest and excitement to your home during the holiday season. You can either buy one or create your own using cardboard or felt in whichever shapes you like best. Each day, simply add a small picture or something else that represents the type of activity you plan to do that day.
Add Holiday-Themed Pillows And Blankets To Your Sofa Or Bed
Pillows and blankets are a great way to add color and texture to your home during the holidays. Consider buying new ones or making some yourself using holiday-themed fabric. You can even create your own designs, such as snowflakes or trees, to make them more festive. Be sure to add plenty of pillows and blankets around the home so that you and your loved ones can snuggle up comfortably during the colder months.
For more information on xmas art, check online.