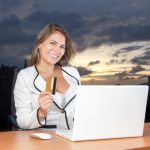 This pandemic has made the world open up its eyes about the merits of working from home. Many traditional types thought that it would not be possible for a lot of businesses but necessity forced them make it work. Indeed, remote work has managed to prevent the economy from collapsing during the lockdowns by allowing at least some people to do the things that have to be done in their respective companies. These people continued to receive a steady paycheck for their families.
Of course, this arrangement has been going on especially in the IT sector but the numbers have risen tremendously in the past months. This is likely to stick due to the following:
Better Work-Life Balance
A lot of office people spend the biggest chunk of their days at their cubicles. There are also long hours spent driving and eating outside on breaks. Since they need to sleep to recharge when at home, this leaves little time for their families. This is an unacceptable for some who feel that work should take a backseat to family life, not the other way around. Remote IT jobs make it possible to have a better work-life balance. Things may be shaky at the start as workers adjust but the usually find ways to make this manageable.
Freedom to Travel
Having a remote job means that you are not tied down to a single place all day, every day. You can actually move around if you want to. Work at a coffee shop that's near your home for a change of environment. You can even go to the beach or the mountains as long as you have electricity and an Internet connection. You can travel overseas if you feel like and take your loved ones with you. You won't have to file for limited vacation leaves because you have the freedom to travel anytime.
Increased Opportunities
Remote IT jobs also provide people with increased opportunities. They can apply for jobs where the company might be far from their home, perhaps in another state or another country. As long as they meet the job's requirements, they can be hired for the post or the project. This can be part-time work or a full-time commitment. They will never be limited by what's available in their hometown. This also means that they can simply live in a small town and enjoy the savings while earning good money.