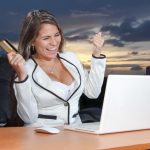 With the rise of online shopping, credit card payment platforms have become more important than ever. These platforms allow customers to make purchases online using their credit card without ever having to leave their home. It's convenient, secure and instant – the perfect trifecta for the modern shopper.
To use a credit card payment platform, you simply need to have a credit card and an account with the platform itself. Some popular platforms include PayPal, Stripe and Square. Once you have an account set up, you can use it to make purchases on any website that accepts that particular platform.
The benefits of using a credit card payment platform are numerous. For starters, it's incredibly convenient. You don't have to worry about reaching for your wallet, finding your credit card and then typing in all the details. With a payment platform, it's all there in one place. Just log in, enter your payment details, and you're done.
Another benefit is security. Credit card payment platforms use advanced encryption to ensure that your payment details are kept safe from hackers and other online threats. They also offer fraud protection, so if there are any unauthorized charges on your card, you can easily dispute them and get your money back.
Finally, credit card payment platforms offer instant payments. This means that as soon as you make a purchase, the payment is processed and the money is transferred from your account to the seller's account. This is much faster than traditional payment methods like checks or bank transfers, which can take days or even weeks to clear.
Of course, credit card payment platforms aren't perfect. There are some downsides to using them, such as the fact that they usually charge a fee for transactions. This fee can be significant, especially if you're making a large purchase.
Additionally, some payment platforms may not be accepted by certain websites or merchants. If you come across a website that doesn't accept your preferred payment platform, you'll have to either find another platform or use a different payment method.
Despite these drawbacks, credit card payment platforms are still a great option for anyone who wants to simplify their online shopping experience. They offer convenience, security and speed – three things that are highly valued by today's consumers.
If you're thinking about using a credit card payment platform, there are a few things you should keep in mind. First, be sure to read the terms and conditions carefully before signing up for an account. Make sure you understand all the fees and charges associated with the platform, as well as their policies on refunds and disputes.
Second, be sure to choose a payment platform that is widely accepted by online merchants. Some popular platforms like PayPal and Stripe are accepted by most major retailers, while others may be more limited in their acceptance.
Finally, be sure to use a strong, unique password for your payment platform account. This will help prevent unauthorized access and keep your payment details safe.
Credit card payment platforms are a great way to make online shopping easier, faster and more secure. While they may not be perfect, they offer a lot of benefits that make them well worth considering. Just be sure to do your research and choose a platform that works for you.