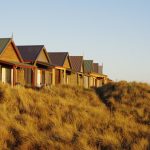 If you're looking for a peaceful escape from the hustle and bustle of city life, cabins in South Australia offer the perfect getaway. From the rugged outback to the scenic coastline, there are plenty of options to fit your desired location and budget.
One of the most popular destinations for cabins in South Australia is the Fleurieu Peninsula. Boasting stunning beaches, charming towns, and rolling hills, this region offers a perfect blend of relaxation and adventure. You can choose from cabins nestled in the bush or waterfront cabins with stunning views of the ocean. Either way, you'll be surrounded by nature's beauty.
For those seeking a more rugged and remote experience, cabins in the Flinders Ranges offer a unique opportunity to immerse oneself in the Australian wilderness. The cabins here are simpler, but they offer everything you need for a comfortable stay. Located adjacent to national parks, the cabins provide easy access to hiking and other outdoor activities. You might even spot some of Australia's iconic wildlife, including kangaroos, emus, or echidnas while staying in a cabin in Flinders Ranges.
If you're looking for something more luxurious, cabins in Kangaroo Island might be your perfect choice. These cabins are perfect for a romantic getaway or family vacation and offer stunning coastal views and luxurious amenities such as private hot tubs. You'll find plenty of activities on the island to keep you occupied including hiking, wildlife-watching, and exploring the local produce markets.
Cabins in South Australia are also an excellent option for those looking for a budget-friendly vacation. With many affordable cabin options available throughout the state, it's easy to find a comfortable and cozy place to stay without breaking the bank. By staying in a cabin, you can save money on lodging, leaving more in your budget for exploring the local area.
South Australia's cabins offer an exciting array of experiences, and each location has its unique charm. Whether you're looking to escape the city, enjoy the great outdoors, or spend some quality time with loved ones in a beautiful setting, the cabins in South Australia have everything you need.
Cabins in South Australia provide a perfect opportunity to escape the noise and stress of city life. With plenty of options ranging from budget to luxury, you're sure to find a cabin that fits your needs while offering a beautiful, tranquil setting. So, pack your bags, take some time off and book a cabin in South Australia to experience the beauty of this wonderful state.