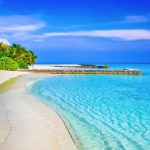 When people think of a sunny beach vacation down south, most automatically think of the tropical Caribbean islands that are scattered about a southern portion of the Atlantic Ocean in the Caribbean Sea. While these islands are perfect for a tropical getaway in paradise, they are not by any means the only option when it comes to such vacations.
One of the places that many people have been flocking to for a while now is the Riviera Maya area of Mexico. Although it's not an island, this stretch of coastline along the coast of the Caribbean Sea in the province of Quintana Roo has everything anyone could want in a tropical beach vacation including sun, tropical landscapes and some of the most beautiful beaches in the world. As an added bonus, the area is also full of ancient history and vibrant cultural experiences. While there are a number of towns and cities along this stretch, one of the more popular destinations with visitors is the coastal town of Playa Del Carmen.
Playa del Carmen is about an hour's drive away from the city of Cancun. If you plan to vacation there, you will likely land in Cancun first and take ground transportation to your final destination. Fifth Avenue is the main street which is full of boutique shops, vendors and top restaurants and a beautiful, sandy beach runs alongside the downtown area. Nearby attractions include several Mayan ruins sites, the island of Cuzumel, Los Fundadores Park, 3D Museum of Wonders and Grand Coral Golf Riviera Maya.
Before you leave for your trip, you should become familiar with Playa del Carmen Hotels and it is best to book your accommodation before you arrive as they do tend to fill up especially during the high season.
All-inclusive resorts are the most popular accommodation when it comes to Playa del Carmen Hotels. A typical all-inclusive vacation includes accommodation, airport transfers, airfare, some meals and some activities and excursions. These resorts are typically quite large and have everything you can imagine on-site such as swimming pools, restaurants, hot tubs, fitness rooms, water sports, private beach area and tour booking desks. Some of the resorts are situated in the downtown area while others are located on the edge of town away from the crowds.
Other types of accommodation that are in Playa del Carmen include hostels and boutique hotels and these are mostly located in the downtown area.
Playa del Carmen is known for it's seaside lifestyle and exciting night life. Fifth avenue never sleep and there is always something going on whether it be day or night!